Speed and position. Anywhere.
Industry leading GNSS, Inertial and Indoor Positioning Systems.
VBOX Systems are used by vehicle and tyre manufacturers around the world for testing and validating a vehicle's performance, handling and safety systems.
Applications
VBOX systems provide highly accurate measurements of position, velocity and attitude and are trusted by the world's leading automotive companies for all aspects of vehicle testing and validation, both indoors and outdoors, even where you cannot get GNSS.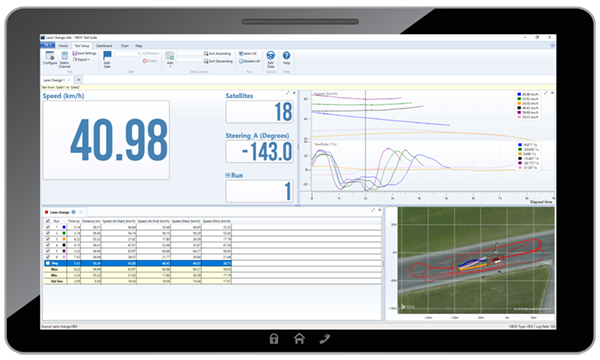 VBOX Test Suite
---
Our user-friendly, intuitive data analysis software is free to all VBOX users and comes preloaded with application specific plugins that make it quick and easy to conduct ADAS, Braking, Coastdown, Pass-By Noise, Performance and other tests.
Over 25 application specific plugins
Live and post-event data analysis
Analyse multiple data sets simultaneously
Available in over 10 different languages
Create your own custom tests
Easily create charts, tables and reports
About VBOX
---
The first VBOX data logger was launched back in 1992 and our equipment has since become the industry standard for vehicle testing and validation, with more than 10,000 VBOX systems sold to date.
We have regional offices in the United Kingdom, United States and Germany, along with a global VBOX distributor network. All of our GNSS, Inertial and Indoor Positioning systems are designed in-house, using the expertise and industry knowledge we have acquired over the past 30 years.
We are extremely proud to work closely with our global customers to help shape the future of the automotive industry.
---