Solutions
To reduce heavy vehicle operational costs, VBOX Mining Solutions can provide high accuracy GPS data synchronised with video to analyse haul roads and driver behaviour.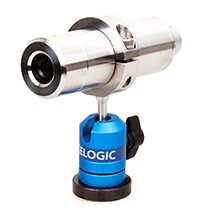 Racelogic VBOX equipment provide cost-effective solutions to monitor driver behaviour and haul road conditions in order to reduce tyre, fuel and maintenance costs.
VBOX systems offer low-cost solutions for long-term savings, helping mining companies around the world to:

- Improve tyre selection, haul roads and driver behaviour
- Increase tyre life, vehicle component life and productivity
- Reduce tread wear rates, maintenance costs and fuel usage
VBOX Studies
VBOX Studies are conducted across the world for a variety of applications:
TKPH / TMPH Studies - Tyre Selection Analysis
Haul Road Studies - Corner and Gradient Analysis
Operator Driving Studies - Speed and Driving Line Analysis
Ancillary Fleet Tyre Studies - Loader, Grader and Dozer Analysis
Incident Investigation - Video VBOX Footage Analysis
Brake Testing - Brake Test plugin
Measured parameters and CAN Bus data
VBOX systems log high-resolution GPS data, which allows users to determine relationships between vehicle operations and costs. When connected to the vehicle via CAN, VBOX can compare on-board vehicle data against precise vehicle movements.
VBOX systems use GPS data to measure:

Speed
Distance
Lateral Acceleration
Longitudinal Acceleration
Heading
Radius of Turn
Altitude
Gradient

Connect VBOX to CAN Bus to measure:

Throttle
Braking
Steering Angle
RPM
Gear
Wheel Speed
Payload
Fuel