New plugins and features for VBOX Test Suite
We have released a new version of VBOX Test Suite. Version 1.7.13.2107 adds two test plugins, additional features such as Interim results and several bug fixes.
Update Highlights
New plugins (R78 Motorcycle Braking & R138 Electric Vehicle Pass-by Noise)
Removes the beta tag on Coastdown and Lane Change plugins
Adds French and German language options
Adds online-mode support for VBOX Sport
Interim Results
For a full list, please see the history notes which summarises the many changes/fixes since the previous release.
As with our other recently updated applications, VBOX Test Suite now uses .NET Framework 4.7.1, meaning that Windows 7 SP1 or later is now required to run it.
VBOX Test Suite should notify you that an update is available.
Interim Results in Detail
The latest version includes Interim Results (formerly known as "Line Conditions") which allows any channel to be used as a condition, as well as adding a 'between' condition to the 'at' and 'every' conditions.
This addditional functionality allows for Interim Results to now be included in the main results table or, as previously, as a separate table.
When Interim Results are included in the main table of results, average/min/max/standard deviation parameters are accessible on multi-run sessions; which makes for easier export to custom-presented results in third-party software or further processing.
The following detail has been added to the relevant sections of the VBOX Test Suite user guide on the RACELOGIC Support Centre:
The software allows the user to display intermediary results called 'Interim results'. The Interim results are determined by adding in 'Interim Conditions'.
Interim Results are determined from within a plugin configuration window.
Pressing the '+' button will add a new interim result. It is possible to have this line appear at 'Every' instance of the value (i.e. Every 10 km/h), 'At' an instance of a value (i.e. Only at 10 km/h) or 'Between' values (i.e. Between 30 km/h and 50 km/h).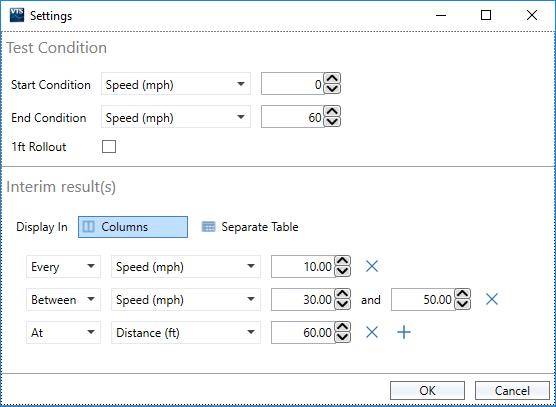 When 'Columns' is selected, each interim result is shown as a column within the right hand side of the results table, if 'Separate Table' is selected, each interim result is shown as a row, in a separate table, next to the results table.