VBOX European Roadshow is back
The VBOX Hospitality Trailer is back on the road and you are invited to the join us for the VBOX Roadshow 2018. We will be stopping at the following locations: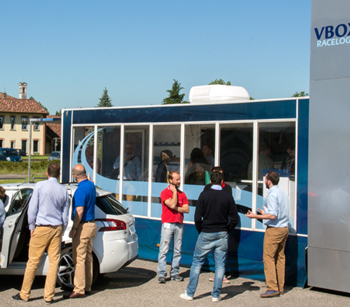 14 Sep 2018
Goodyear Luxembourg (Employees only)

18/19 Sep 2018
ADAC Fahrsicherheitsplatz Ingolstadt
Marie-Curie-Str. 15
85055 Ingolstadt
Deutschland

27 Sep 2018
ASC Guidasicura Quattroruote
Cascina di Vairano, 41
27018 Vidigulfo (PV)
Italia

What to expect?
We will be there to support you, and to demonstrate our new products and software.
You'll be able to take an exclusive look at our exciting new data logger, the VBOX Touch, with its bright capacitive touch screen and varied programming options.
We'll be demonstrating VBOX Connect – a real-time vehicle position monitoring and file-download system.
We have several new software plugins for VBOX Test Suite, such as Pass By Noise and AEB. See how we can save you time and cost in your test and development programs with software designed specifically for your requirements.
We will also be able to show you our prototype indoor positioning system.

Come along the VBOX Roadshow to discuss your testing needs both now and in the future! We will be delighted to welcome you into the VBOX hospitality trailer for refreshments during the day, as well spending time on the test track for demonstrations.
What's next?
Please email with the date and location you'd like to attend, so you can receive more detailed information on the event.