Performance Box Touch
Simple 25 Hz data logger with touch screen for performance testing, lap timing and speed display.
25 Hz GPS data logging
4.3" colour touchscreen
Performance, lap timing & speed display
Up to 6 hrs battery lifetime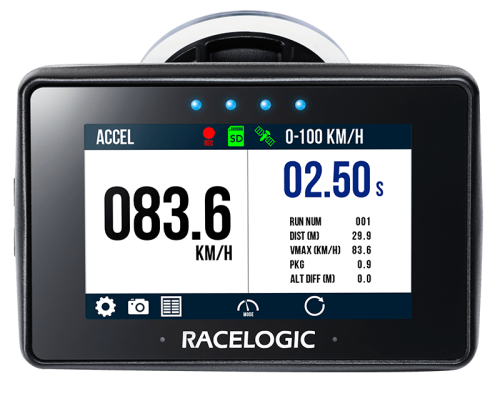 Features

Large Touch Screen
4.3" TFT daylight readable capacitive touch screen, 480*800 pixels

Live Slope Correction
The slope correction mode for acceleration tests will correct the acceleration time result relative to the gradient the test was performed on and display the results live on screen*.

6 hrs battery lifetime
Optional clip-on battery allows you to record for up to 6 hours without plugging in the power lead.


Inbuilt GNSS Antenna
25 Hz GNSS receiver with internal patch antenna and optional external GNSS antenna (overrides the internal antenna when connected)

Free Analysis Software
Analyse your vehicle's performance in a range of acceleration and braking tests with VBOX Test Suite.
SD Card Logging
All parameters are logged to an SD card ten times per second and can be viewed and analysed in detail.
VBOX Test Suite Software
VBOX Test Suite, our user-friendly, intuitive data analysis software makes the analysis of vehicle acceleration and brake test data quick and clear.
Dedicated plugins and visual aids such as charts, graphs and tables allow you to analyse your data in more detail.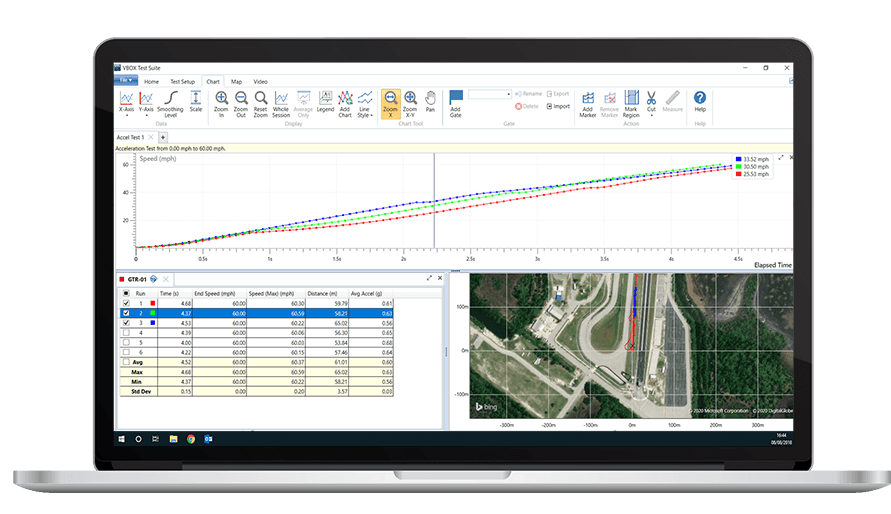 Chart Area
The chart area gives a graphical representation of the data contained within your test file, in this case three runs from a 0 to 60 mph.
Any channel (e.g. Speed against Time) can be set as X/Y axis, and multiple channels and files can be overlaid.
Track Map Position
The map area shows a positional trace from either the saved data contained within a file or real time live data.
Selecting 'Show Aerial Image/Road Map' dropdown menu will overlay either an aerial image or road map from Bing Maps onto the map area.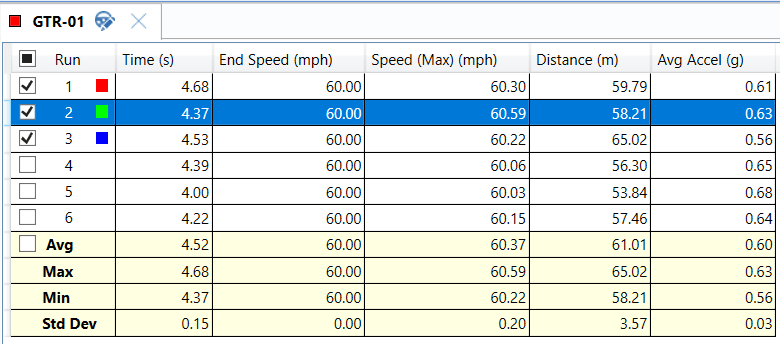 Test Result Table
The test results area displays all of the results from the current test. Within this area it is possible to include/exclude results from the chart area, display the average/max/min values and also easily identify any runs which have not met the pass criteria.
Operation Modes
Performance Box Touch has 4 modes available which allow you to conduct a range of performance tests and functions: Acceleration, Deceleration, Lap Time and Speed.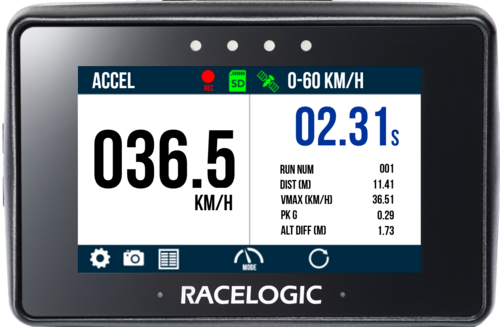 Acceleration Mode
Deceleration Mode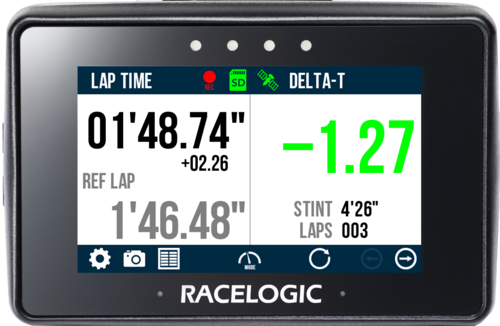 Lap Timing Mode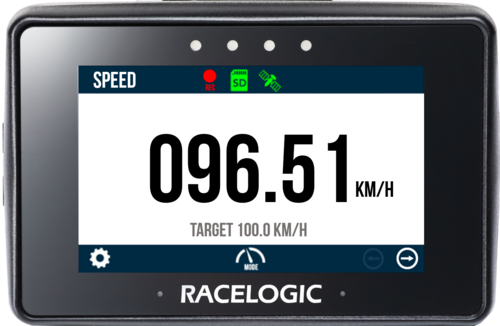 Speed Display Mode
What our customers say
... and other related videos