Overview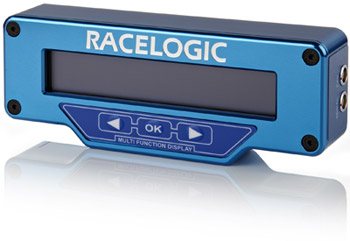 The VBOX Multi-Function Display (RLVBDSP03) is designed to show a large number of different variables and performance results on a clear backlit LCD display.
The display is supplied with a heavy duty rubber suction cup which screws into the back of the display via a standard camera tripod style fixing.
The VBOX Multi-Function Display is ideal when you need to monitor one or more parameters live in the vehicle. The MFD allows simultaneous display of up to four VBOX data parameters.
In addition, the display has a target screen which shows a bar graph of any parameter, alongside a configurable target. This is very useful for maintaining a steady brake pedal pressure or deceleration rate during a brake stop.
The Multi-Function Display can be setup from the display itself, or via the Windows VBOX Tools software.