VBOX Thermocouple Interface
Overview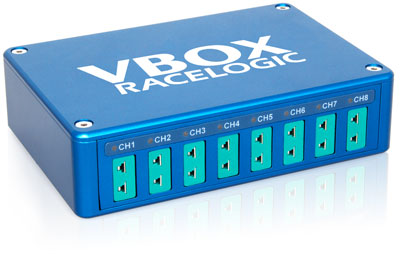 The VBOX Thermocouple Interface (RLVBTC8-V2) measures 8 thermocouple inputs with 100 samples per second and provides a CAN output as a stand-alone or RACELOGIC based CAN module.
It is primarily designed to connect to a VBOX GPS data logger and allows the user to log thermocouple data along with the normal channels of VBOX data.
The range of the Thermocouple Interface is -269 to +1375 °C. The unit uses a 24 bit ADC.
The Thermocouple Interface works from any power supply from 6V up to 30V.
The unit can be used in stand-alone timed mode or in conjunction with other RACELOGIC modules such as the Analogue Input (ADC03) or Vehicle CAN interface (CAN02).

Features
Features
8 K-type thermocouple inputs
100Hz logging
Accurate to 0.5°C between -100°C and 1000°C
Individual channel status LEDs
Each channel has an individual CJC sensor

Direct K-type thermocouple connection
Supports standard and extended CAN frames
CAN data rate up to 1Mbit/s
Configuration via USB
Timer controlled transmission or polled response

Specs
Specification
Input Channels: 8 different input channels
Thermocouple Type K Input Signals: -269.5°C to 1372°C
Sample Rate: 100Hz
Resolution: 24 bit
System Accuracy:
-200°C to -100°C ± 0.8°C
-100°C to 1000°C ± 0.5°C
1000°C to 1300°C ± 0.7°C
Cold Junction Compensation Accuracy: ± 0.2°C
Isolation Voltage:
500V DC isolated to chassis
500V DC isolated channel to channel
Over Voltage Protection: 36 VDC
CMR (50/60)Hz: > 120dB
Power Supply Voltage: 6-30 VDC <2W
CAN Type: CAN 2.0A or CAN 2.0B compatible
CAN Baud Rates: 125Kbit/s, 250Kbit/s, 500Kbit/s, 1Mbit/s
Operating Temperature: -20°C to +70°C


Dimensions: 85 (W) x 125 (L) x 32.6 (H) mm
Weight: 352g
Download or print datasheet here.