Tyre Testing

VBOX Test Suite is our free data analysis software that is available to all VBOX users. It comes with three dedicated Tyre Testing plugins, making it easy to obtain results for both longitudinal and lateral aquaplane applications, and gain a greater understanding of the characteristics and behaviour of the tyres under test.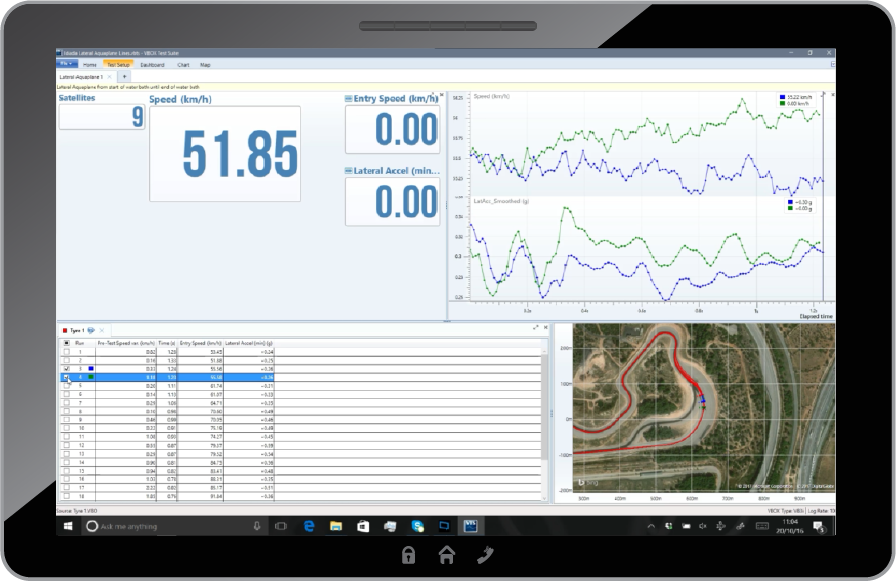 Key Features
---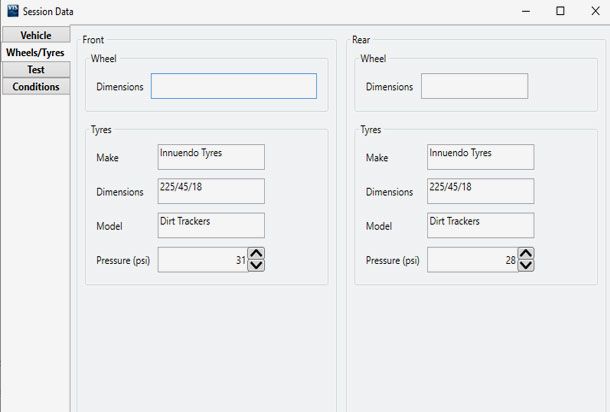 Session-specific information
The software allows you to enter session-specific information for each test, that defines test conditions and vehicle details. This includes fields such as tyre dimensions, vehicle model, weather and temperature. The information is automatically saved to the log file and only needs to be entered once, it can also be exported for use in another file, saving setup time.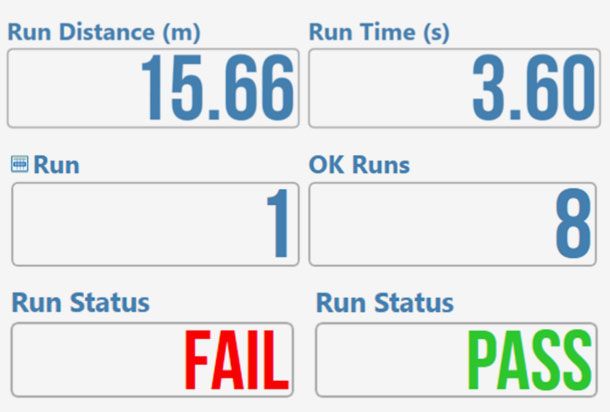 Live test results
VBOX Test Suite is compatible with any Windows-based PC, e.g. the Microsoft Surface Pro tablet, allowing you to see your results live from the test vehicle.
If you add a Pass/Fail criteria, the 'Run Status' gauge will show you if a vehicle has passed or failed based on these criteria, in real-time.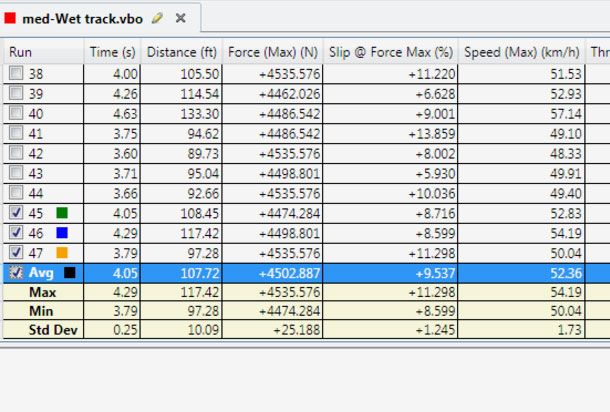 Test results area
Test results are presented in a user-friendly, intuiative way. You can easily filter results to include or exclude test runs, display average/max/min values and identify any runs which did not meet the required pass criteria.
Every time a new test is started, a new tab will be added to the test results area, allowing you to switch between separate tests and compare runs from each.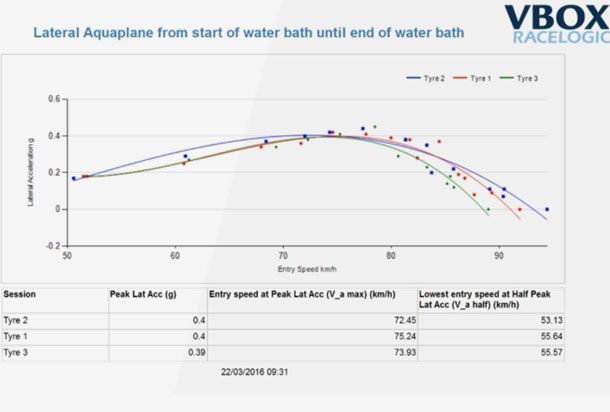 Reports
A comprehensive report can be generated at the end of the test, providing all session information and results for post-test analysis. You can either print the report or export it as an Excel, Word or PDF document, that can be easily shared with other engineers or teams.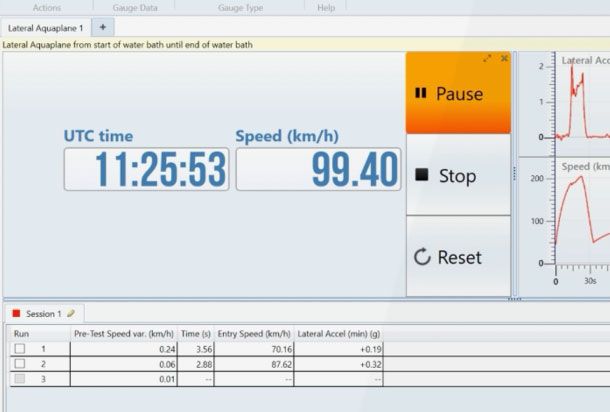 Start/Finish lines
At the click of a mouse or tap on a screen, the user can set the start line, start of bath and end line.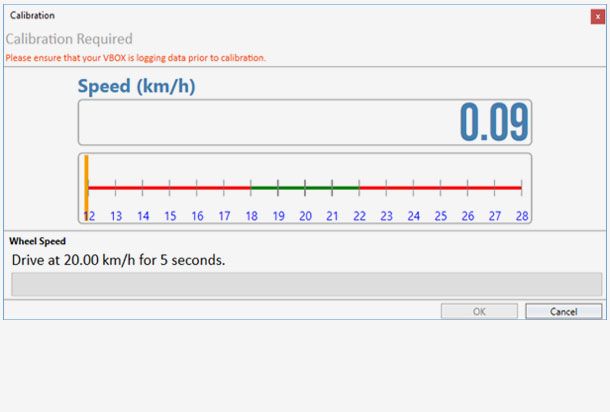 Wheel speed calibration
To allow for different wheel diameters to be easily and consistently used in the Longitudinal Aquaplane or Tyre Traction test, the software has an auto calibrate function that automatically applies a scaling factor to the CAN wheel Speeds to match the GPS Speed.
Lateral Aquaplane
---
This plugin allows you to measure the lateral aquaplane performance of a given tyre or tyre tread patterns based on speed and attained lateral acceleration.
By closely monitoring the vehicle's lateral acceleration throughout the test procedure, the Lateral Aquaplane plugin produces a comprehensive report outlining the acceleration obtained and how quickly, and to what degree, this value decreases when the tyres begin to aquaplane.
This data can be directly compared to other tyre compounds to provide engineers with the information needed to grade tyre performance in wet corner conditions.
Key Features
Simple to set-up and use
Clear, easy to read pass/ fail criteria
Produces a customisable report of Entry Speed vs Lateral Acceleration
Map integration - overlay a positional trace onto a satellite image
Video integration
Customisable entry conditions allow the user to ensure the vehicle enters the bath in a steady state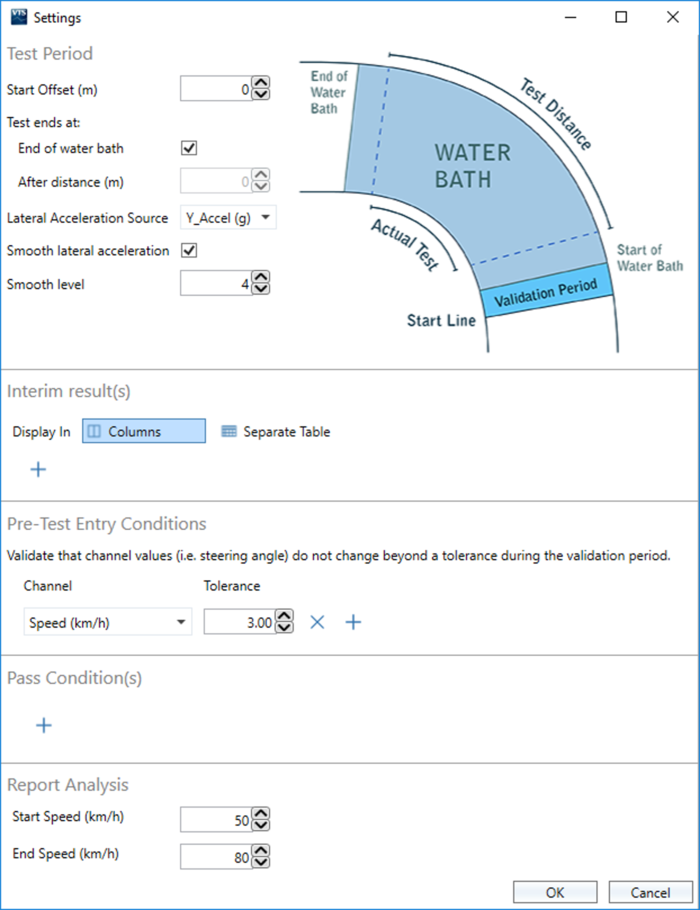 Longitudinal Aquaplane
---
This plugin can be used to denote a threshold slip value for each wheel, providing the user with the opportunity to choose between reaching the aquaplane condition when one, or all of the tyres, exceed this value.
It provides the ability to set pre-entry test conditions in order to ensure the vehicle is in a steady state before the test begins, and automatically calibrates wheel speeds simply by driving at a constant speed - removing the restraints of having to calibrate within the test area.
Key Features
Simple to set-up and use
Clear, easy to read indication of wheels speeds and percentage slip
Map integration - overlay a positional trace onto a satellite image
Video integration
Automated wheel speed calibration procedure
No external beacons required
Manually set line conditions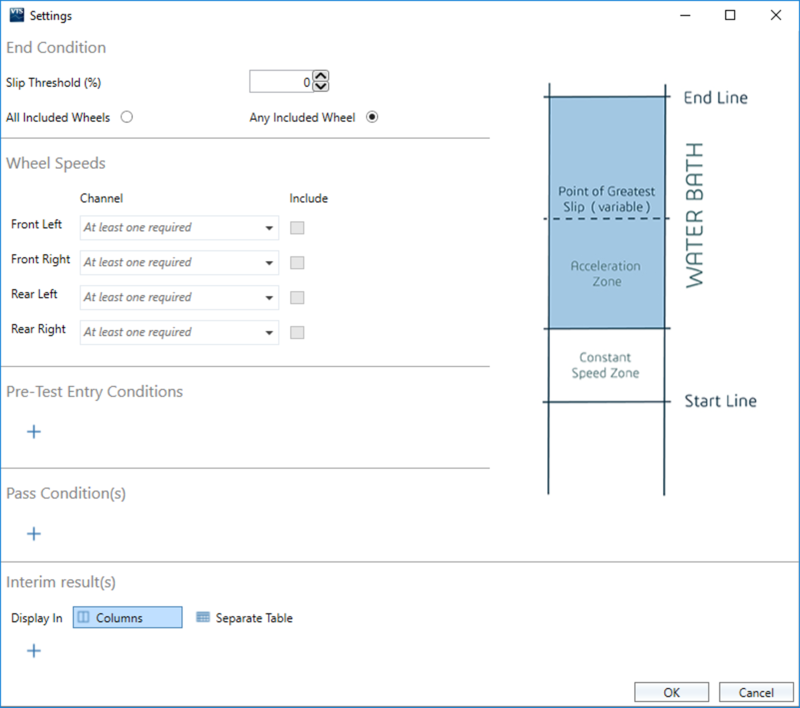 Tyre Traction
---
This plugin allows you to compare the traction forces and wheel slip of different tyres. In order to successfully complete the test, your will need access to the driven wheels speed sensors as well as a throttle position sensor.