VBOX-ADAS-Sensoren

Die akustischen und visuellen Sensoren von VBOX wurden speziell für die Erfüllung von UNECE-Anforderungen, Euro NCAP und F&E enwickelt.
VBOX-Audio-Sensor
The VBOX Audio Sensor captures audible warnings such as given during FCW (Forward Collision Warning), DSM (Driver Status Monitoring) and Safe Exit Assist/ Dooring scenarios. It can also be used to detect information functions given as part of Occupant Status Monitoring (OSM), Seat Belt Reminder (SBR) and Sign Post Recognition (SPR).
The sensor utilises its own custom-built software that is fully user configurable to react to any audible tone given by the vehicle under test.
Thresholds can be configured to detect the required frequency over the environmental noises from the test vehicle, such as road and car noise.
Where this unit differs from other similar sensors is that it can also be configured to detect high frequency haptic warnings using the audible tone of the vibration created.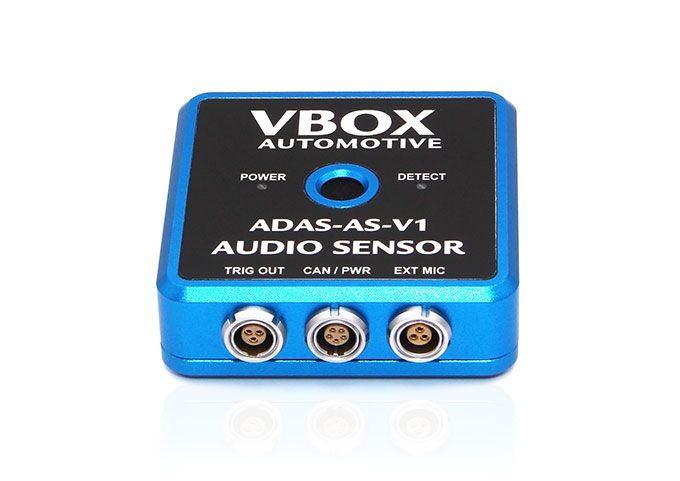 Merkmale
Differentiates between exterior environmental noise and required frequency
User configurable for multiple frequencies to trigger sequentially
User configurable to trigger off of 'ALL' or 'ANY' frequency in multi-frequency tones
Built-in microphone suitable for most applications. Additional external 'plug in' microphone included for high noise environments or concealed speaker units.
Ability to add a fixed delay to the digital output
Integrated LEDs for clear ON/OFF confirmation when a tone has been sensed/ triggered
Immediate CAN output contains time since Audio Start as part of its message
Digital output (0-5 V/ open drain compatible)  
5 mm internal thread for rigid mounting within the vehicle using standard VBOX suction mounts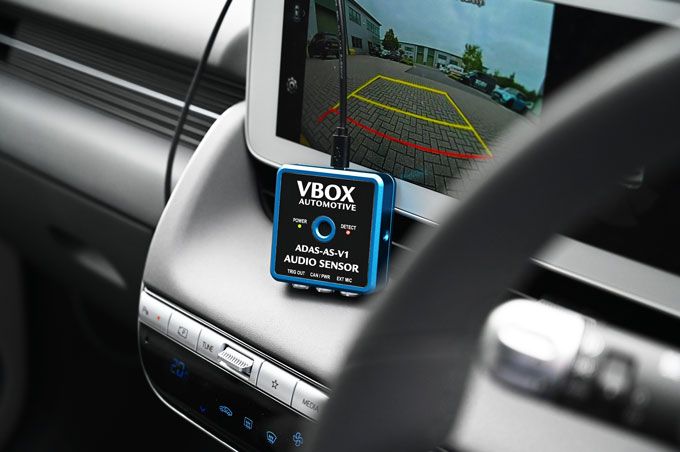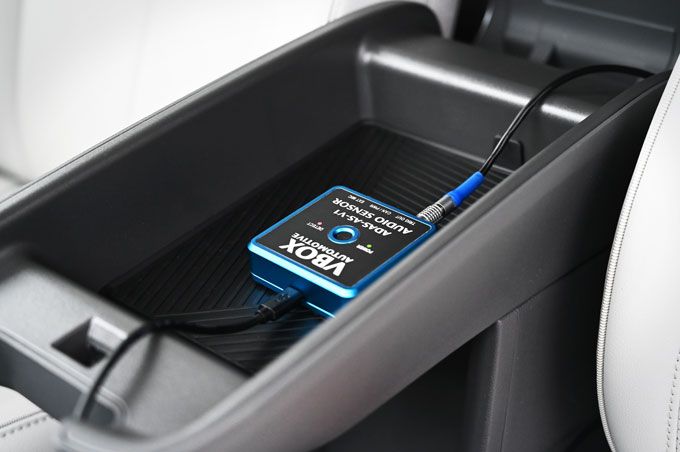 VBOX-Visual-Sensor
The VBOX Visual Sensor records visual alerts and information related to Forward Collision Warning, Blind Spot Monitoring, and Safe Exit Assist/ Dooring scenarios.
These visual warnings can be either sent to a VBOX for an instant pass/fail assessment based on the specific scenario, or directly transmitted to a driving robot for real-time response to the warning.
The VBOX visual sensor is one of several warning detection methods offered by VBOX to meet the requirements of UNECE, Euro NCAP, and developmental needs. It can work alongside or independently of other ADAS sensors.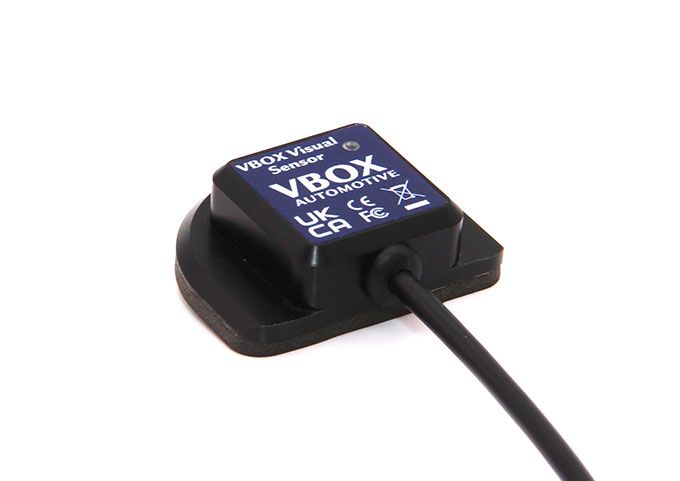 Merkmale
Triggers the onset of a visual warning or information function given by the test vehicle
Compatible with Pulse Width Modulated warning LEDs
Integrated repeater LED for visual confirmation when covering the warning
Digital output (0-5 V/ open drain compatible)
Flange casing for easy mount on flat surfaces