Vehicle Dynamics Testing
VBOX makes it easy to perform a wide range of vehicle handling & dynamics tests in real-time.
Industry leading performance
Compliant with latest regulations
Ideal for high dynamic applications
Free data analysis software
Evaluate a Vehicle's Handling & Dynamics with VBOX
We offer a various solution for testing a vehicle's handling and dynamics characteristics. The accuracy of VBOX systems, combined with our free data analysis software, means you can easily test in accordance with the latest global regulations. Standard procedures for Aquaplane, ESC, Centreline Deviation, Lane Change, and Tyre testing can be conducted using a VBOX data logger, which offers industry leading performance.
The accurate measurement of attitude channels makes VBOX 3iSDR an ideal sensor for vehicle dynamics testing including suspension, chassis, and brake testing. The two antennas add the ability to measure slip angle at five discrete locations.
The VBOX 3i data logger has an update rate of 100 Hz, making it ideal for high dynamic applications that require accurate measurements of speed, position and heading. Having a second GNSS Antenna means it can also measure slip angle, pitch/roll angle or heading at 100 Hz. VBOX 3i can also be connected to the VBOX IMU for highly accurate measurements of pitch, roll and yaw.
Vehicle Handling & Dynamics Testing with VBOX
Electronic Stability Control (ESC) Testing
The VBOX 3i is compatible with steering robots, and enables you to conduct sine with dwell tests, without the need for ride height sensors or accelerometer packs.
Suitable for FMVSS126 and ESC R13H testing
Integrates with steering robots for consistent testing
Cost effective when compared to traditional ESC testing products
Highly accurate measurements of position, speed and yaw rate
Real-time testing with synchronised video and data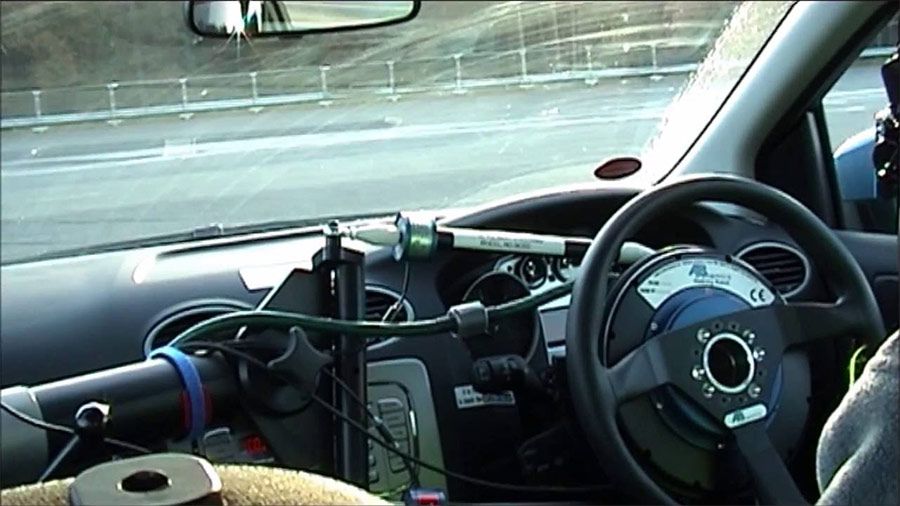 Aquaplane Testing
Make longitudinal and lateral Aquaplane testing as simple and quick as possible, reducing time spent on the test track.
Free Aquaplane testing software
Real-time display of wheels speeds, percentage slip and lateral acceleration
Automated wheel speed calibration procedure
Synchronised video and data with graphical overlay
Measure speed, distance, wheel slip, lateral acceleration and entry speed
Lane Change Testing
Perform lane change manoeuvres which fall in line with the "Elk Avoidance Test" / ISO3888-2 standard, quickly and easily.
Free Lane Change testing software
Immediate display of results for "witness" tests
Synchronised video and data with a graphical overlay of the speeds achieved
Robot integration (AB Dynamics and VEHICO)
Measure speed, heading, yaw rate, lateral g and steering angle
Centreline Deviation Testing
Measure a vehicle's side wind susceptibility and line deviation tendencies to within a cm
Measure centreline deviation, speed, heading, yaw rate and steering angle
View live data from the test vehicle
Understand the effects of side winds, suspension geometry errors and deviation
Free data analysis software
End of manufacturing line testing systems available
Tyre Testing
Test and validate the performance of tyres in various test conditions.
Perform high accuracy brake stops to within ±1.8 cm accuracy
Pedal force and travel sensor inputs via analogue or CAN
Measure, log and display the surface temperature of all four tyres in real-time
Synchronised video and data with graphics overlay
Free braking and aquaplane test software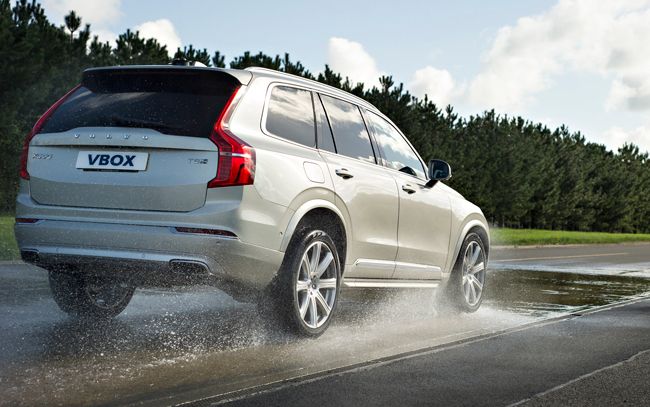 VBOX Testing Equipment
---
A typical vehicle dynamics test setup consists of a VBOX 3i 100 Hz Dual Antenna data logger, RTK Base Station and Inertial Measurement Unit.
We also provide free data analysis software to all VBOX users, which comes with dedicated plugins that make it easy to conduct a range of ride and handling tests in real-time, as well as simplify post-processing.
VBOX Video loggers are often used for vehicle dynamics testing, as up to four cameras can be mounted inside or outside the vehicle, offering synchronised, time-stamped video and data. This can save hours, or possible days of post-processing and is particularly useful for 'witness' tests.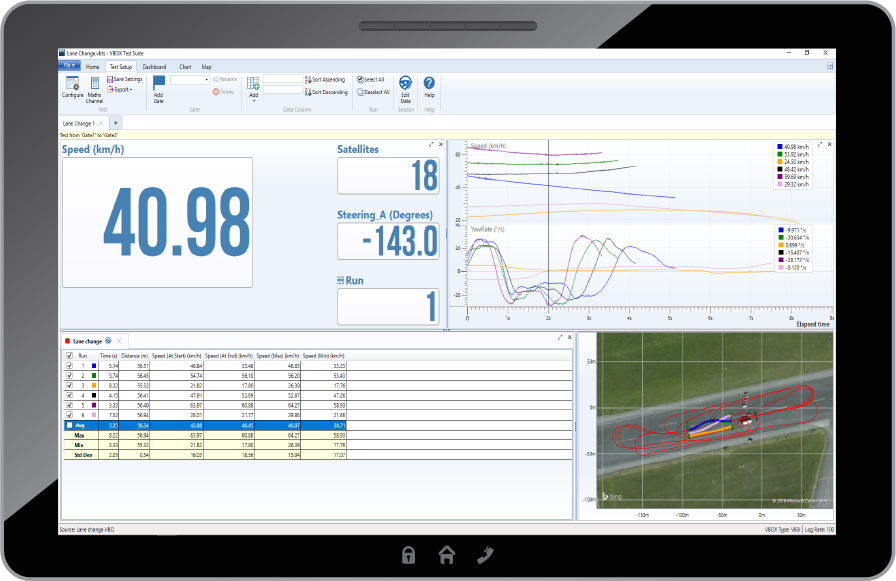 Dedicated Plugins
Quickly and easily perform tests such as Centre Line Deviation, Lane Change, Braking, and Aquaplane using our pre-configured plugins.
Customisable dashboard
Display live or post-processed data on a series of gauges, as well as start, stop and reset tests with a single click.
Chart area
See a graphical representation of the data contained within a file. Any channel (e.g. Speed against Time) can be set as X/Y axis, and multiple channels and files can be overlaid.
Map area
The map area shows a positional trace of the path taken during testing. You can also overlay a positional trace onto a satellite image.
Free Data Analysis Software
VBOX Test Suite makes the process of analysing your test results as quick and easy as possible, by combining a clean layout with the ability to compare multiple sets of data simultaneously.
It is available in ten different languages and comes with several dedicated plugins for vehicle dynamics testing, making it easy to test in real-time from the test vehicle.