Which ADAS applications can you test with a VBOX?
You can validate the accuracy of almost any Advanced Driver Assistance System using a VBOX 3i ADAS, including Park Assist, AEB, Lane Keep Assist and Dooring.
VBOX 3i ADAS provides highly accurate measurements of position, speed, attitude, separation distance and time-to-collision data from multiple vehicles. The VBOX 3iS Inertial Navigation System is a cost-effective solution for your target vehicles, whilst the VBOX 3i data logger is usually placed in the subject vehicle. Both offer cm-level position accuracy.
Dooring/ Exit Assist
Flexible test solution to meet the requirements of the new 2023 Euro NCAP Dooring scenario within the VRU active safety assessment.
100 Hz RTK, Euro NCAP-compliant solution for 'exit assist' systems
Bespoke sensors to detect visual and audible warnings
Door handle activation and door opening sensors to assess door retention systems
Synchronised HD Video for post-processing
Free, dedicated Dooring test software plugin
Park Assist
You can verify the accuracy of your Park Assist system in both parallel and bay parking spaces using a VBOX, even in underground or multi-storey car parks.
Validate Park Assist systems indoors and outdoors
Measure the distance from any point on the vehicle to the closest line or object
Test in parallel and bay parking spaces
Survey objects like kerbs, bollards, line markings and parked vehicles
Free Park Assist testing software plugin
Lane Departure Warning
Measure the perpendicular distance to the lane edge from four points on the vehicle with cm-level positional accuracy.
Capture lane departure warning signals via CAN or digital/analogue inputs
Lane change testing for ACSF (Automatically Commanded Steering Function)
Simultaneous measurement of up to four points on the test vehicle
Compatible with multiple lane types (straight or curved lane edges)
Free Lane Departure Warning testing software plugin
Autonomous Emergency Braking & Forward Collision Warning
VBOX systems provide centimetre level accuracy, along with a real-time output of the relevant parameters required to develop AEB / FCW systems, in accordance with international standards.
ISO 15623 Forward Vehicle Collision Warning System testing
NHTSA Forward Collision Warning System confirmation testing
Euro NCAP Autonomous Emergency Braking testing
High position accuracy indoors and outdoors
Free AEB testing software plugin
Adaptive Cruise Control
Test in accordance to ISO 15622 standards, which outline the basic control strategy, minimum functionality, requirements and performance test procedures for ACC systems.
Measure parameters from multiple vehicles on the open road
Log the vehicle's ACC operational data alongside GPS data
Steady state speed, approaching convoy, stop & go and cornering
Measure the time gap and separation between both vehicles to within a cm
Blind Spot Detection
VBOX systems provide an easy and reliable way for manufacturers to verify the effectiveness of their Blind Spot Detection system and help improve road safety.
Measure parameters from up to four vehicles in real-time
Log the vehicle's Blind Spot Detection operational data alongside GPS data
VBOX systems use RTK to achieve cm-level positional accuracy
Map up to 24 contact points on the vehicle
Synchronised HD video and data from the test vehicle with graphical overlay
VBOX ADAS Testing Equipment
---
Testing and validating Advanced Driver Assistance Systems (ADAS) requires highly accurate measurements of position, speed and attitude, often in real-world environments. VBOX systems enable you to measure multiple parameters from up to four vehicles in real-time, and our free data analysis software (VBOX Test Suite) has several ADAS plugins for quick and easy testing. The software can be used both online (when connected to a VBOX) and offline (for post-processing).
The VBOX 3i ADAS is designed for ADAS testing. Connecting via radio telemetry to an RTK Base Station or NTRIP modem, our 100 Hz data logger with RTK offers cm-level accuracy in almost any environment. Similarly, the VBOX 3iS 100 Hz Inertial Navigation System is available with RTK. VBOX 3iS is an extremely cost-effective solution for your target vehicles, and connects to either a VBOX or 3rd party data acquisition system via Serial or CAN.
Another popular solution for ADAS testing is a VBOX Video data logger. Up to four cameras can be installed in each vehicle, providing you with synchronised, time-stamped video footage and data from multiple vehicles. This could save you hours, or potentially days, of post-processing.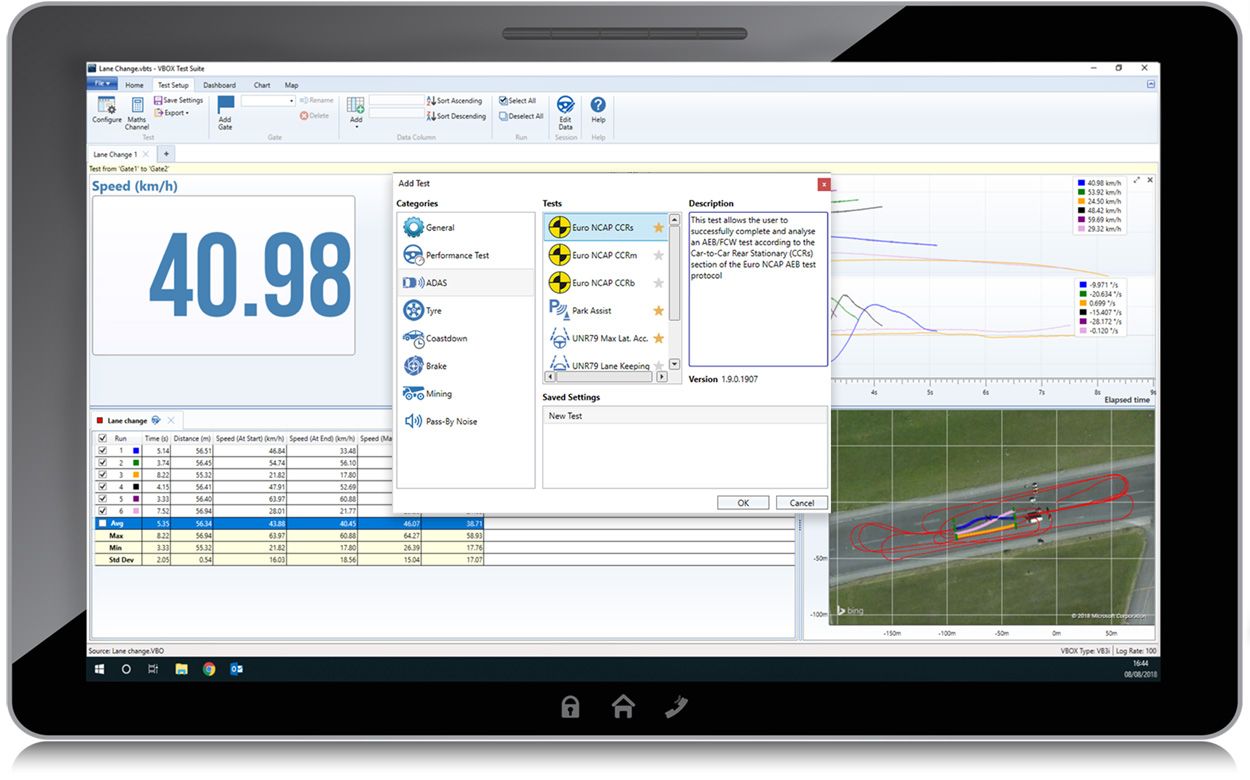 Dedicated ADAS plugins
Quickly and easily perform ADAS tests such as Park Assist, AEB and ACC, using the pre-configured plugins that conform to EURO NCAP, NHTSA and other international standards.
Customisable dashboard
Display live or post-processed data on a series of gauges, as well as start, stop and reset tests with a single click.
Chart area
See a graphical representation of the data contained within a file. Any channel (e.g. Speed against Time) can be set as X/Y axis, and multiple channels and files can be overlaid.
Map area
The map area shows a positional trace of the path taken during testing. You can also overlay a positional trace onto a satellite image.
Free Data Analysis Software
VBOX Test Suite makes the process of analysing your test results as quick and easy as possible, by combining a clean layout with the ability to compare multiple sets of data simultaneously.
It is available in ten different languages and comes with more than seven dedicated ADAS plugins, so you can easily validate ADAS sensors in real-time from the test vehicle.
How does it work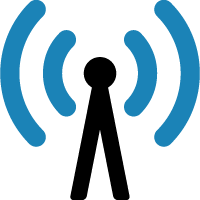 Increased Accuracy with RTK
What is Real Time Kinematic (RTK)? How do you increase the accuracy of GPS signals using RTK? What are the limitations?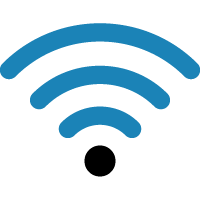 GPS in Vehicle Testing
How do you derive velocity, distance, position & vehicle body attitudes from GPS? Which factors are crucial in producing accurate measurements for vehicle testing?