Real Time Kinematic (RTK)
Real Time Kinematic is a technique used to increase the accuracy of GPS signals by using a fixed base station which wirelessly sends out corrections to a moving receiver.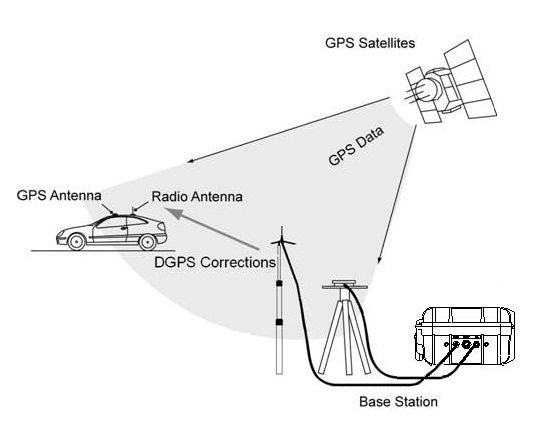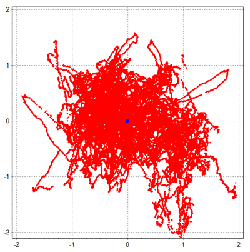 24hr scatter plot - RTK plot in blue, normal GPS in red
By utilising these corrections, the GPS engine can fix the position of the antenna to within 1 - 2cm.
The technique involves the measurement of the carrier phase of the satellite signal, which is then subject to some sophisticated statistical methods to align the phase of these signals to eliminate the majority of normal GPS type errors.
This alignment process goes through three phases, acquisition, ambiguity 'Float' mode and ambiguity 'Fixed' mode. Accuracies in Float mode are in the region of 0.75 - 0.2m and 0.01 - 0.02m in Fixed mode.
The correction signal is sent out at intervals of 1 second.
Moving base
The base station can also be on a moving vehicle, in which case the corrections needs to be sent out at the sample rate of the receiving GPS engine, and the accuracy is slightly reduced to around 3 - 5cm.

Automotive applications
RTK is particularly suited for measuring the relative position of a number of moving and stationary objects, making the technique very useful in the test and verification of ADAS systems.
Limitations
The 'Roving' GPS engine has to be within communication range of the Base Station in order to receive corrections. Dropouts of around 10s can be tolerated without any undue loss of accuracy.
In order to work quickly, the GPS receiver has to see two sets of satellite frequencies, and the best way to achieve this is to track GPS and the Russian Glonass system. Therefore the Base Station and receiver need to track both constellations, and require antennas which can receive both frequencies.
Both the base station and receiver need to have a clear line of sight to the sky, RTK does not work very well in urban areas with tall buildings, with tree cover or under bridges. In these situations, it is best to use an inertial measurement system (e.g. the Racelogic IMU04) to smooth out the solution.