Autonomous Vehicle Testing
Ground truth and precision reference systems for Autonomous vehicle validation
Centimetre-level positional accuracy
Inertial Navigation & Indoor Positioning Systems
Highly accurate path following
Seamless indoor and outdoor testing
Ground truth measurement in any environment
Ground truth measurement for autonomous vehicles
---
Testing and validating the performance of autonomous vehicles requires a highly accurate reference system. Engineers need to be sure that an autonomous system works well in the real-world, and that the vehicle follows an exact path, without deviation.
VBOX systems are a reliable source of ground truth, providing resilient high-accuracy position, navigation and timing (PNT) through the combination of multi-frequency GNSS, inertial data and odometer input (wheel speed from vehicle CAN). All solutions are accurate to within a centimetre outdoors or indoors with our UWB indoor positioning system. 
Position
RTK corrected, multi-frequency GNSS for centimetre-level position accuracy
Navigation
Accurate speed and heading
Timing
GPS/UTC time and PPS for synchronisation of all recorded data

Accurate Path Following
Compatible with popular steering robots from leading manufacturers AB Dynamics and VEHICO for repeatable testing anywhere.

Ground Truth Measurement
Easily measure ground truth and ensure that your autonomous systems are capable of driving in all environments.

Autonomous Validation Indoors
VBOX systems offer centimetre-level position accuracy in any environment, as well as an update rate of 100 Hz.

Data Analysis Software
VBOX speed sensors, data loggers and inertial navigation systems come with free data analysis software, VBOX Test Suite.
Which VBOX systems can you test autonomous vehicles with?
VBOX systems offer centimetre-level precision indoors and outdoors, even in environments where satellite signals are obscured by bridges or large buildings. We design and manufacture industry-leading data loggers, inertial navigation systems and indoor positioning systems for validating autonomous driving performance.
VBOX 3iS - Inertial Navigation System
Small, compact and available with RTK. VBOX 3iSDR uses the latest GNSS and inertial technology to ensure robust position accuracy in almost any environment. Our latest INS connects to any data acquisition system via Serial or CAN, and is the ideal system for measuring ground truth.
GNSS + Inertial + CAN Wheel Speed
Centimetre-level position accuracy
Precise measurements of pitch, roll, yaw and heading
Compatible with steering robots
Ground truth measurement in challenging environments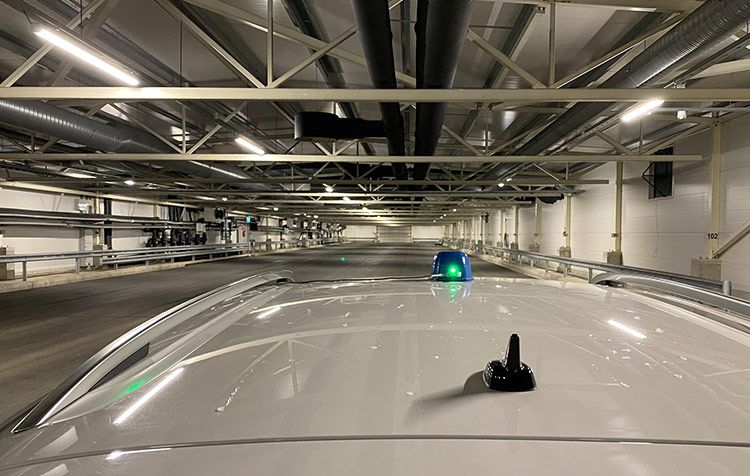 VBOX Indoor Positioning System
Need to test autonomous vehicles indoors? VBOX Indoor Positioning System (VIPS) uses the latest Ultra-Wideband (UWB) technology and offers 2 cm accuracy in areas with no satellite coverage. 
Ultra-Wideband (UWB) technology
2 cm position accuracy indoors
Industry-leading alternative to GNSS
Path following & ground truth measurement indoors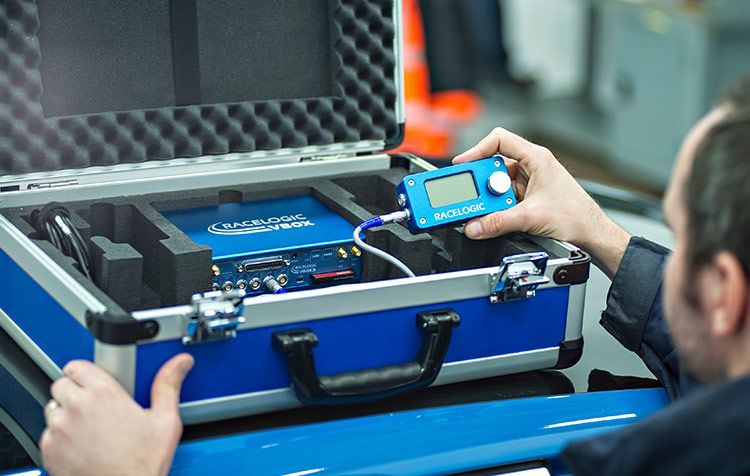 VBOX 3i - GNSS Data Logger with RTK
Our flagship data logger is available with dual antennas and RTK, making it the industry standard for measuring position and speed. VBOX 3i with RTK is the ideal ground truth measurement system for anyone that also needs a data logger, offering centimetre-level accuracy outdoors and seamless transitioning with the VBOX Indoor Positioning System.
100 Hz GNSS receiver with RTK
Centimetre-level position accuracy
Compatible with steering robots
Free data analysis software
Can be used in conjunction with the VBOX IMU
Accurate Path Following Indoors
VBOX Indoor Positioning System is a reliable alternative to GNSS that offers 2cm accuracy and precise positioning data indoors.
The system is compatible with steering robots from leading manufacturers such as AB Dynamics and VEHICO, making it suitable for path following in environments previously off limits. These include indoor car parks, test halls or anywhere else where you cannot get GPS.
VIPS integrates seamlessly with the VBOX 3i Data logger, meaning you can seamlessly go between outdoor and indoor test locations with no loss of accuracy.
Hardware-In-The-Loop Simulation
Using a combination of simulation and real-world testing can help speed up the development of autonomous vehicles.
We offer a complete solution for autonomous vehicle development, including GNSS simulation software, that can be used to create real-world scenarios in just a matter of minutes.