Vehicle Performance Testing
VBOX systems are the industry standard for measuring speed and position, and are often used for validating test results in world record attempts.
Speed sensors and data loggers for all budgets
Update rates from 10 to 100 Hz
Accurately measure speed, position and distance
Acceleration, deceleration and benchmarking
See your results in real-time
Vehicle Performance Testing with VBOX
---
VBOX data loggers can be used for testing a vehicle's performance, such as acceleration or deceleration, over a certain distance or time. Data such as G-force and VMAX is also presented in a user-friendly format and logged to an SD card, for quick and easy analysis in the free VBOX Test Suite software. Some data loggers, such as the VBOX Touch, have a large screen that presents your performance test results to you in real-time, with a clear pass / fail status for each run.
VBOX systems also have a significant advantage over other test equipment when used for vehicle benchmarking, as our speed sensors and data loggers can be easily moved from car to car, and accurately decode information from numerous OEM CAN bus protocols.
Performance test data can also be synchronised with HD video footage using the Video VBOX HD2, with a real-time graphical overlay of the required parameters for each test.

Acceleration Testing
Our compact and portable data loggers make it easy to test a vehicle's acceleration over a set distance or time, such as 0-60 mph or over a quarter mile, with real-time feedback.

Deceleration Testing
Easily test how quickly your vehicle decelerates between certain speeds or to a standstill. VBOX data loggers enable you to conduct speed-to-speed and trigger activated deceleration tests.

Ideal for Benchmarking
VBOX data loggers can be easily moved from car to car and accurately decode information from numerous OEM CAN bus protocols, thanks to our free library of vehicle CAN (.ref) files.

Video Integration
VBOX video loggers provide synchronised video and data, with real-time graphical overlay. Up to four cameras can be mounted inside or outside the vehicle, so you can understand its exact behaviour.

Live Display
Test results can be seen live from the vehicle, either on a PC or tablet using VBOX Test Suite, on the data loggers' internal screen, or using an additional VBOX colour touchscreen display.

World Record Verification
VBOX data loggers are often used in Guinness World Record attempts, and have been used to validate the world's longest drift in an electric vehicle, as well as the fastest slalom and acceleration runs.
VBOX Test Suite

Our user-friendly, intuitive data analysis software makes the process of recording and analysing your performance test data as quick and easy as possible.
It is available in ten different languages and can be installed on Windows computers or tablets, offering a great solution for real-time testing.
There are dedicated plugins for Acceleration and Deceleration testing, that enable you to enter the start and end conditions, and begin testing in just a few clicks. The plugins also have a range of pre-set speed and distance conditions, such as 0-60 mph, 0-100 km/h, 0-100 mph, 0-130 mph, 0-160 km/h, 0-200 km/h, 0-End of Acceleration and Quarter Mile.
Testing Equipment
---
Performance testing can be conducted using any VBOX data logger, performance meter or video data logger. We offer a range of data loggers to suit any budget, including the plug & play VBOX Touch and industry leading VBOX 3i, which has a 100 Hz update rate.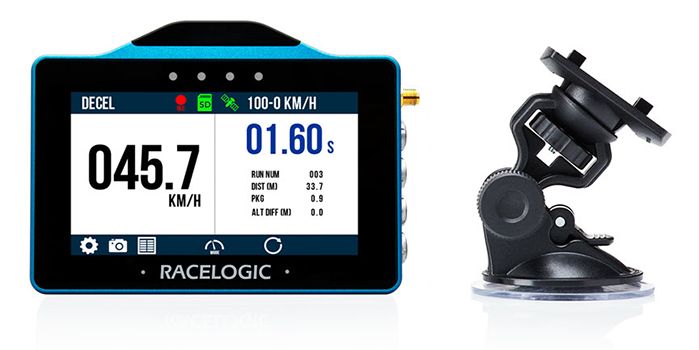 VBOX systems are ideal for:
Acceleration testing
Deceleration testing
Coastdown testing
Benchmarking
Traction Control Development
Performance Feel and Drivability
Journalists & broadcast companies
Measured Parameters
Speed
Acceleration / Braking
Heading
Distance
Drive lines
Lap times
Vehicle signals via CAN or analogue inputs
Customer Profiles
VBOX equipment is used by a number of motoring publications and broadcast companies, including the BBC and Top Gear. A large proportion of new vehicles are put through their paces by journalists, keen to test straight line acceleration and braking, lap times, cornering g-forces, and many more parameters.
Television production companies making programmes where performance timing or speed measurement is a requirement (such Northone TV, who produce the motoring show "Fifth Gear" - and who also filmed the 2014 series "Speed" featuring motorcycle racer Guy Martin - for broadcast in the UK) turn to VBOX data loggers thanks to their ease of use and reliability.