Driver Status Monitoring (DSM)
Highly automated test solution to meet the requirements of the new 2023 Euro NCAP Driver Status Monitoring scenario within the Safe Driving assessment.
100 Hz data capture alongside 1080p 4 camera system
Synchronised camera footage for instant test review
Immediate pass/fail results for the majority of tests
Quick post-processing option for edge cases
Free, dedicated DSM test software
Test your DSM System with VBOX
For years, Video VBOX has been used for ADAS / AD on road and track based evaluation. The 2023 Euro NCAP test scenario for Driver Status Monitoring is a perfect example of this, utilising the fully synchronised 1080P video capture and coupling it with 100 Hz data capture to give an extremely refined solution.
With a simple analysis software, results can be obtained easily and immediately with little to no post-processing requirements. Although, some post-processing is possible if required to realign the edge cases for higher confidence.
Combining the use of 2 x VBOX HD2 camera systems, a VBOX 3i data logger, the VBOX ADAS Sensor pack for audible and visual warning detection and using our free software for the Euro NCAP DSM scenario, testing can be efficiently completed with easy automated analysis giving immediate results.

The method of triggered data and video capture allows for a highly automated solution for extremely speedy assessment with immediate results.

Dedicated Software
VBOX Test Suite is free to all VBOX users, available in ten different languages and pre-installed with a dedicated DSM test for Euro NCAP.

Real-time Feedback
VBOX Test Suite installed on a Windows device within the test vehicle offers real-time display of all measured parameters.

NCAP-compliant
The VBOX DSM test solution meets all NCAP requirements.

End of Test (EoT)
The EoT condition is given at 100 Hz and collected instantly via audio/visual warning detection or over dedicated CAN.

Cumulative distractions are calculated at 100 Hz, with results provided to the driver at EoT.
Speedy DSM Assessment with Immediate Results
It takes less than 10 minutes to complete a Driver Status Monitoring Assessment when using our highly automated solution with triggered data and video capture.
TOTAL <10 mins to complete DSM Assessment
VBOX Test Suite with Dedicated Driver Status Monitoring Test
---
Test Suite is an easy-to-use software solution that makes it simple to view live data and quickly see if the results are a pass or fail. With our dedicated post-processing option, you can quickly and easily check for edge cases and make sure all validation requirements, like transition duration (Taway → Tgaze), are met.
VBOX Test Suite utilises 100 Hz data input from the driver trigger to denote Taway and input from the VBOX Sensor pack or 3rd party CAN input for Audio/visual warnings to indentify Twarn/ EoT. Verification footage is recorded in 1080p for review inside the vehicle under test, meaning there is no need for lengthy off-site post-processing.
The Video VBOX mobile app allows you to live-stream camera footage to adjust the focus for each gaze position, while the Video VBOX PC application makes it easy to change the view, field of view, and picture-in-picture settings.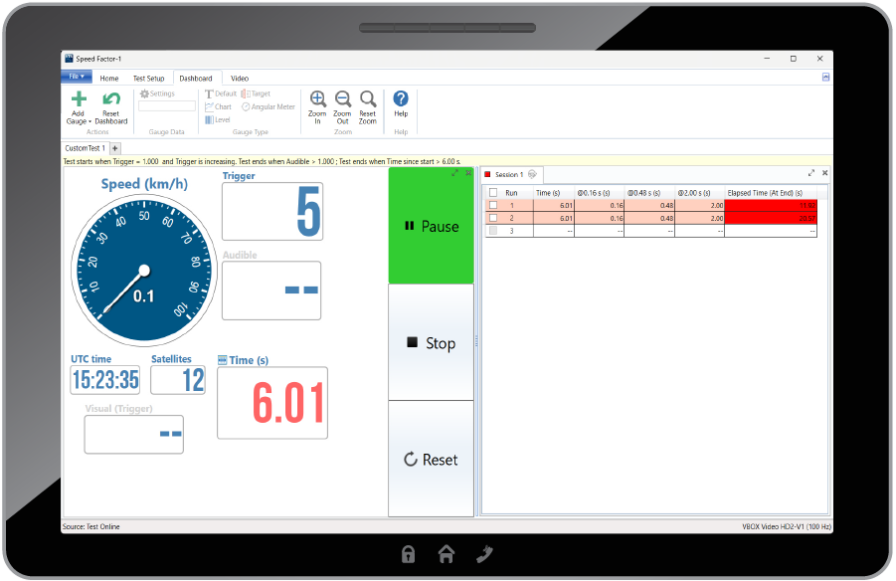 This level of automation results is a significant reduction in post-processing work as well as the time already saved on track. A report can be generated at the end of the test, providing all session information and results for post-test analysis.
Testing Equipment
---
A Driver Status Monitoring test setup consists of two VBOX HD2 Video units each with two HD cameras allowing for 2 coupled, fully synced PiP video sources, each video containing two camera views.
Typical camera positioning would be:
Undistracted driver – Eyes / head facing the road ahead
Gaze location
Multi-Function Display (dashboard) for any warnings given
User's choice, this could be a second gaze location to carry out 2 tests back-to-back or of the road ahead for media purposes.
Each VBOX HD2 video box is receiving data from a VBOX 3i ADAS data logger, which records speed and position throughout the assessment at 100 Hz. The data is fully time synchronised with the video (s) allowing you to easily review the results and playback the test in full.
Measured Parameters
Taway - driver initiated trigger
Tgaze – confirmed from video assessment within software
Twarn – Recorded via VBOX ADAS Sensor pack or 3rd party over CAN at 100 Hz
Speed, position, time and acceleration throughout the assessment