RTK Base Station

The DGNSS RTK base station improves the positional accuracy of VBOX units and other compatible GNSS systems by calculating and transmitting differential correction data.
Centimetre-level position accuracy
Range of up to 10 km with integral or mast mount radio transmitters
RTCMv2, RTCMv3, RTCM v3.2 MSM4/7, or proprietary outputs
Store and recall up to 25 positions
Up to 18 hrs battery life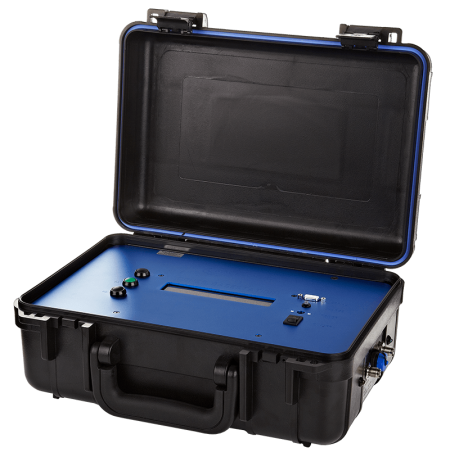 Multi-band GNSS
The VBOX Base Station features a survey grade multi-band receiver with GPSL1/L2/L1C/L2C, GLONASS L1/L2, Galileo E1/E5a/E5b, and BeiDou B1/B2.

Highly accurate
Depending on the type of rover unit used, position accuracies of up to 2 cm can be achieved. VBOX accuracy (RMS): Horizontal: 5 mm + 0.5 ppm x baseline; Vertical: 10 mm - 0.8 ppm x baseline

Up to 10 km transmission range
The optional integral or mast mount radio transmitters have a range of up to 10 km (approx. 6.2 miles) line of sight and 2 km in built-up areas.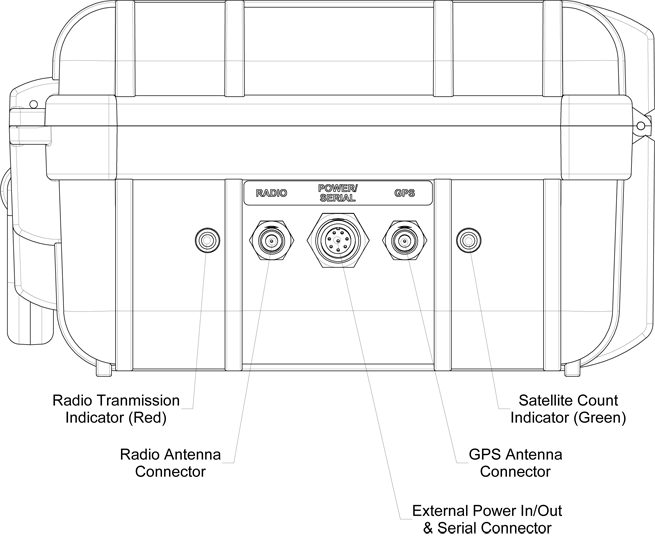 Various output messages
The differential correction message can be broadcasted in RTCM v2, RTCM v3, RTCM v3.2 MSM4, RTCM v3.2 MSM7, or proprietary RTK formats using an internal or mast mounted radio modem transmitter.

25-position memory
You can store and recall up to 25 different reference locations.

Up to 18 hrs battery life
Power can be obtained either from the internal battery or from an external source via a front panel. The battery life is up to 18 hrs, depending on radios in use.

Wide range of radios
The base station works with a variety of different radios to suit your country and range requirements. Please see the
radio range available
from RACELOGIC.
How does it work?
By utilising corrections from a fixed base station, the GPS engine can fix the position of the antenna very accurately. The technique involves the measurement of the carrier phase of the satellite signal, which is then subject to some sophisticated statistical methods to align the phase of these signals to eliminate the majority of normal GPS type errors.
This alignment process goes through three phases: acquisition, ambiguity 'Float' mode and ambiguity 'Fixed' mode. Accuracies in Float mode are in the region of 0.75-0.2 m and 0.01-0.02 m in fixed mode. The correction signal is normally sent out at intervals of 1 second, but can be increased if needed in order to reduce the required data rate.
The VBOX RTK Base Station can be used to improve the positional accuracy of VBOX GPS systems, by calculating and then transmitting differential correction data via radio to allow the roving GPS system to correct its position. Because a single base station can be used simultaneously by all the receivers in range, fixed based stations are ideal for proving grounds or test tracks, where you are testing in a confined area of up to 10 kilometres radius.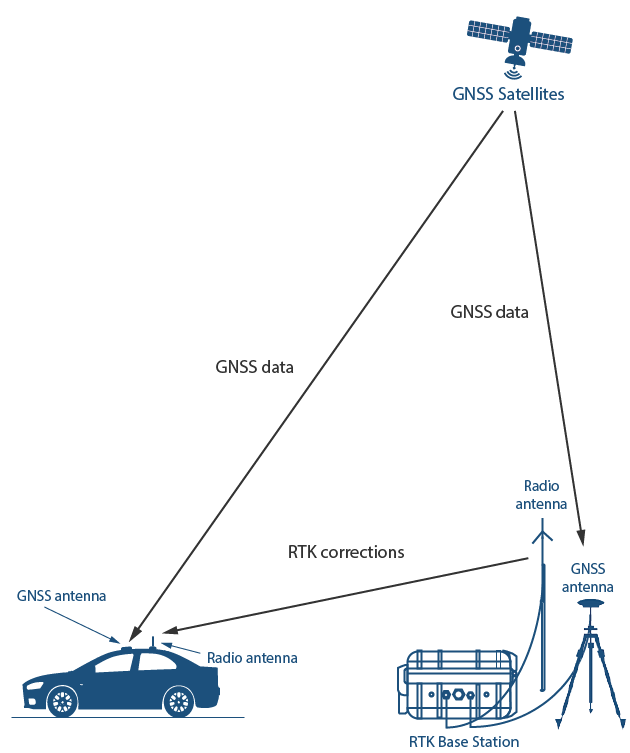 Temperature
Storage Temperature

-40°C to +50°C

Operating Temperature

0°C to +45°C

Battery fast charge

10°C to +50°C
Power
Battery life

Up to 18 hrs (depending on radios)

Input voltage range

8-30 Volts

Input current

Operating and charging @19 V: 2.25 Amps
Operating and not charging @19 V: <0.5 Amps
Radio Modems
Frequency (Europe)

868 MHz

Frequency (All other countries)

915 MHz

Frequency (Satel)

430 MHz

Frequency

2.4 GHz