NTRIP Modem
The VBOX NTRIP Modem allows you to receive RTK correction data via Internet, without having to operate your own RTK base station.
Centimetre-level position accuracy
Access public or commercial RTK Networks via the internet
Simple configuration via Wi-Fi using your phone or laptop
Integrated OLED screen for status and connection information
No radio interference or limitation on communication range

No fixed base station
Correction messages from a network of permanent base stations (RTK network) are received using the internet, either Wi-Fi or a 4G cellular connection. RTK network solutions (paid or free) are particularly successful in regions with dense deployment of permanent base receivers, such as Europe.

Centimetre-level position accuracy
Depending on the range to the nearest reference station (< 40 km), position accuracies of within a centimeter can be achieved using Network RTK.

No range restrictions
Correction message calculation used by Network RTK overcome the range limitation of a single base station. This is an advantage if testing is conducted tens of kilometres away from the base station, over large changes in elevation or where topographical obstacles could get in the way.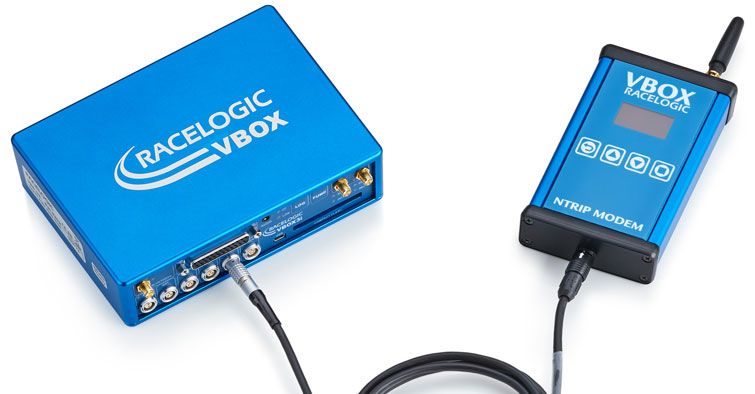 RTK Positioning Correction Service
VBOX Automotive offers flexible options to access the Topnet Live GNSS Positioning Correction Service within Europe with the purchase of any RTK enabled test solution.
The VBOX NTRIP Modem enables the roving VBOX unit, or any other RTK-enabled device, to send its position to the stations within the network – just as it would to a single VBOX Base Station. The NTRIP service provider will then calculate the appropriate corrections for the VBOX's location based on the data from nearby reference stations. This correction information is then returned to the VBOX in the same RTCM format as is used for a single fixed base station.
In order to access NTRIP correction services, you have to register and subscribe to a cellular data plan with your local NTRIP provider, such as Topnet in the UK and Germany, Swepos in Sweden or Unavco in the USA.
NTRIP networks are growing in size and capability. Some networks are operated by the state, free of charge, while others are privately operated and can require a subscription fee.
It is also possible to create your own NTRIP Service (Base station and caster) at your proving ground, eliminating service provider costs and taking advantage of the increased range and reliability of transmission via the internet over 4G cellular or Wi-Fi.
Please contact RACELOGIC if you need help with creating your own NTRIP Caster setup.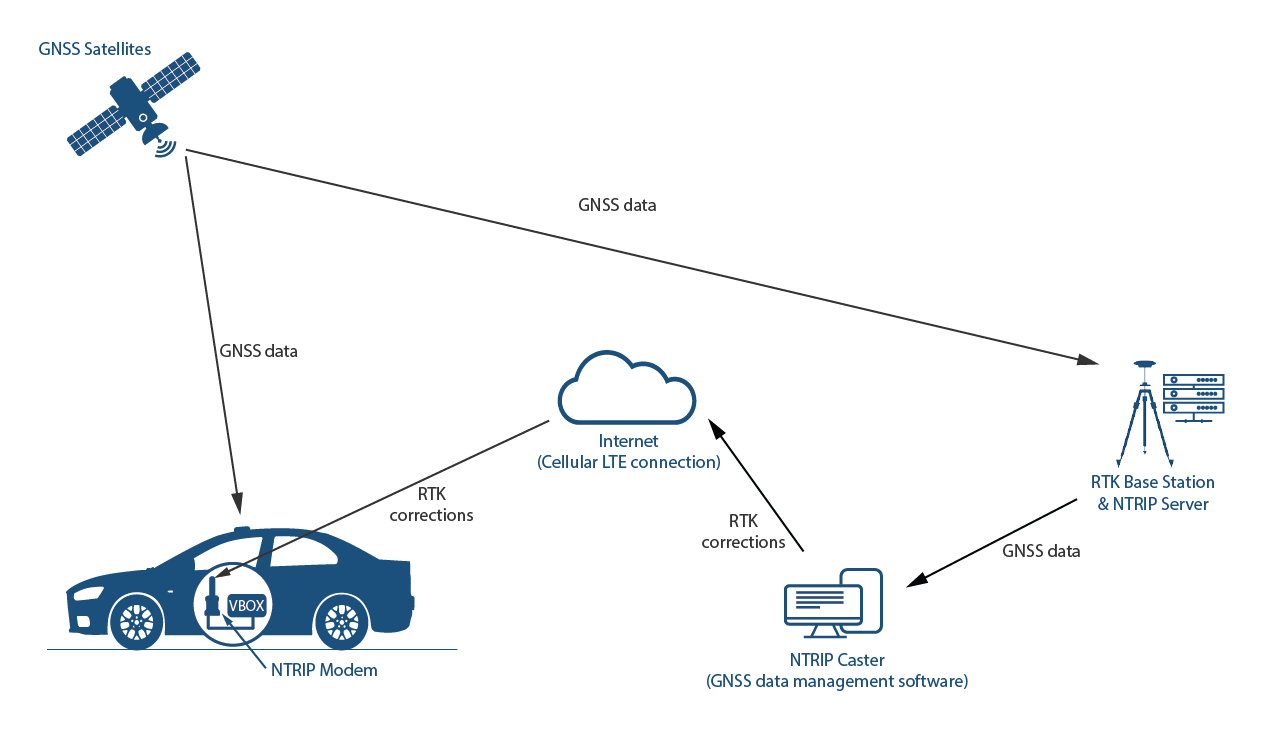 What is Network RTK?
Network RTK utilises one or more Continuous Operating Reference Stations (CORS) to provide RTK data to a GNSS rover, usually via mobile internet. The most common method of Network RTK involves a two-way communication link which allows the roving vehicle to send its position to a service provider that is monitoring satellite observations from several reference stations around a country.
What is NTRIP?
NTRIP, short for

Networked Transport of RTCM via Internet Protocol

, is a protocol for streaming differential GPS data over the Internet in accordance with specification published by RTCM. Most Network RTK systems are internet based and utilise this protocol. A constant internet connection is required to receive corrections, which can be done via a cellular modem, such as VBOX NTRIP, or a smart phone.
Why use NTRIP?
One of the big advantages of NTRIP is that you remove the range and line of sight restrictions of radio transmissions. Radio signals can be blocked by hills, buildings, trees, etc., and the distance they can travel is limited.
If you have a good Wi-Fi connection or a 4G cellular coverage, receiving RTCM correction messages via the RTK network can be an advantage if testing is conducted tens of kilometres away from a base station, over large changes in elevation or where topographical obstacles could get in the way.
The VBOX NTRIP Modem allows for vehicle testing that requires high positional accuracy – such as when validating critical safety systems like AEB/ACC - to be conducted where a VBOX Base Station cannot be deployed.
Environmental & Physical
Size (L x W x H)

142 x 81 x 27 mm

Weight

234 g

Operating Temperature

0 °C to 65 °C

Storage Temperature

-20 °C to 80 °C

Protection Rating

IP20
Power
Supply Voltage

12 V DC (7 V to 30 V)

Protection

Over-voltage and reverse polarity protected

Power Consumption

< 5 W
Wireless Module Features
Frequency Bands

LTE-FDD: B1/ B2/ B3/ B4/ B5/ B7/ B8/ B12/ B13/ B18/ B19/ B20/ B25/ B26/ B28
LTE-TDD: B38/ B39/ B40/ B41
WCDMA: B1/ B2/ B4/ B5/ B6/ B8/ B19
GSM: B2/ B3/ B5/ B8