Synchronised video and data for accident reconstruction and simulation, with traceable results that can be used in courts of law
Highly accurate measurements of speed and distance
Calculate reaction times and the time to collision
Synchronised video for simple presentation of key facts
Vehicle testing for sub-standard maintenance
Reconstruct and verify investigation techniques
Improve Accident Reconstruction with VBOX 
---
Accident Reconstruction is a widely recognized field that uses scientific methods and techniques to investigate and analyze the causes of accidents. The field is used in a variety of contexts worldwide, including criminal investigations, civil litigation, insurance claims, and research into road safety.
With centimetre-level positional accuracy and the ability to log multiple vehicle CAN channels, the VBOX testing system gives investigation teams the ability to accurately simulate and reconstruct all types of vehicle collisions, with traceable results that can be used in courts of law.
A VBOX Video logger can also be used, offering synchronised data and graphically enhanced video, which provides CIU's with the opportunity to quickly view key facts and present these clearly in a court of law. Our simple-to-use analysis software also makes it easy to pick-out important data when investigating an incident.

Highly Accurate
VBOX data loggers provide accurate measurements of speed, distance, acceleration, heading and radius of turn. You can also calculate the coefficient of friction, reaction time and time to collision with VBOX data loggers.

Synchronised HD Video
Use fully synchronised, time-stamped video to quickly see key facts and present these clearly in a court of law. Calculated channels and data parameters can be overlaid on top of the video, to demonstrate exactly what happened.

Connect to CAN Bus
VBOX systems connect directly to a vehicle's CAN bus, enabling you to verify the status of onboard systems during collision reconstruction. They also enable you to test vehicles for sub-standard maintenance, such as low tyre pressures.
Synchronised HD Video
By integrating a VBOX Video data logger into your testing system, you have an easy method to show key facts that may have been difficult to convey without a visual aid.
The HD video is embedded with a fully customisable graphical overlay, that can be configured to show multiple data parameters including the vehicle's speed, the distance to impact and brake pedal pressure inputs.
With its own 10 Hz GPS engine, all data shown by the VBOX Video HD2 can be fully time synced to ensure accuracy.
Testing Equipment
---
Measured Parameters
Speed
Distance
Acceleration
Heading
Radius of turn
Calculated Parameters
Coefficient of friction
Reaction time
Time to collision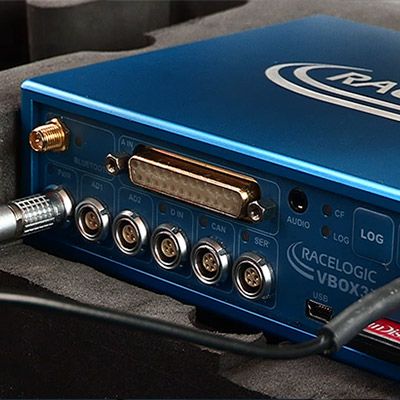 Accurate Speed and Distance Measurements
VBOX data loggers are used by Collision Investigation Units and Police Forces around the world, for accurate measurements of speed, distance, acceleration, heading and radius of turn.
We offer various solutions for recreating and simulating accidents, including the 10 Hz VBOX Touch, which has a colour touchscreen, and our flagship VBOX 3i RTK, which offers centimetre-level position accuracy and CAN Bus connectivity.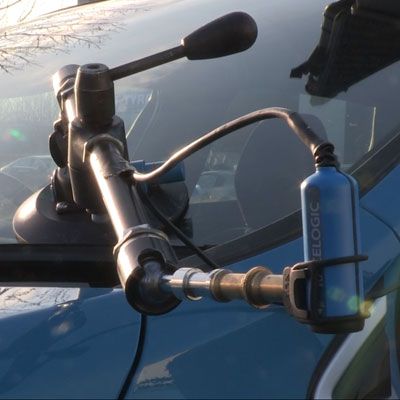 Video Integration
The Video VBOX allows Collision Investigation Units to not only measure speed and distance at an accident simulation, but also to present it in a simple manner to back up data being presented in court.
The overlaid graphical capability of a Video VBOX means that key facts of a case can be conveyed far more easily than through the sole presentation of data in diagrammatic form.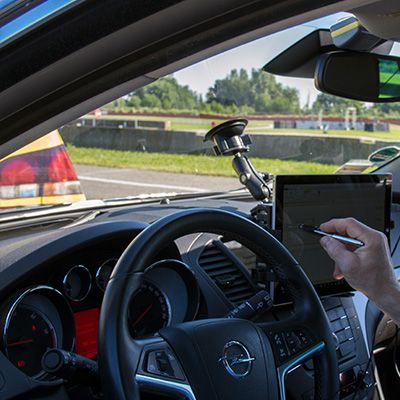 Quick and Easy Data Analysis
VBOX Test Suite analysis software is free to all VBOX users, and provides you with the information that you need quickly, allowing you to easily select the data you want to display and customise the way it is shown on screen.
The software can also create charts and reports, showing the important information in a user-friendly manner.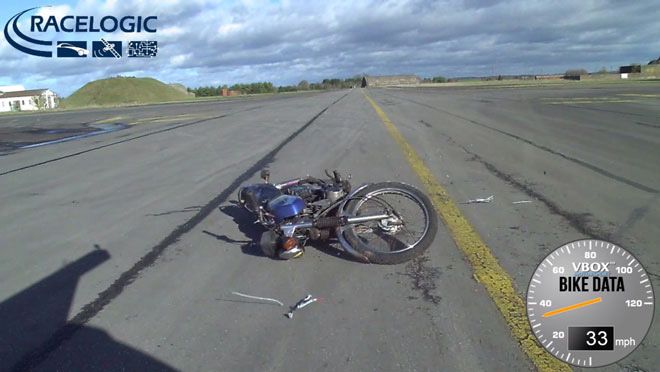 Thames Valley Police
The crash investigators in the Thames Valley police force use a VBOX Micro and a VBOX Video data logger to reconstruct motorcycle accidents.
The VBOX Micro, connected to a GPS combiner and two antennas – to ensure continuity of satellite lock when the bike falls onto its side – is packed into the seat unit with a battery pack. The bike is then towed up to a set speed and 'dropped' so that it falls and skids along the runway. The test is filmed by a rear-facing VBOX Video camera system.
The investigators then validate their existing crash forensic methods against evidence they have collected: whilst it seems very obvious what will happen to a motorcycle when its rider loses control, being able to safely replicate this has been very difficult before. Although these tests are in their infancy, the Thames Valley CIU are building a database of crash types that aids them when examining real-world incidents, and helps them to further understand the dynamics of motorcycles involved in accidents.
ARC CSI and Crash Investigation
ARC CSI, held annually in Las Vegas, is a crash conference. Around eight to ten crashes are conducted with a variety of equipment installed in the test mules in a range of accidents: cars into cars, buses into cars, vehicles into concrete blocks - either headlong or offset, and so on.
Typically, a crash reconstruction is carried out using a VBOX 3i along with a VBOX video data logger. GPS and vehicle signals are combined to demonstrate what happens to a vehicle and its occupants in the event of a collision. This combination provides a visceral, powerful way of crash reconstruction.
Bringing data and measurements into the courtroom in America means that the equipment must be industry standard, correctly operated, and verifiably calibrated. VBOX products are recognised as meeting these criteria.