Validate a tyre's ability to effectively remove excess water and maintain performance using a VBOX
Lateral and Longitudinal aquaplane testing
Clear and easy to read indication of wheel speeds and percentage slip
Automated wheel speed calibration procedure
Free analysis software with plugins for Lateral and Longitudinal aquaplane testing
Simple to set up and easy to use
Verify tyre performance with VBOX
---
With real-time measurements of wheel speeds and percentage slip, the VBOX testing system lets you quickly evaluate how effective a tyre is at displacing water and maintaining performance. Both Lateral and Longitudinal aquaplane tests can be carried out with ease, thanks to dedicated plugins in our free data analysis software, VBOX Test Suite, which can help to reduce testing time.
By learning more about the characteristics and behaviour of the tyres under test, engineers can pinpoint areas for improvement and accelerate the tyre development process.

Highly Accurate
The VBOX 3i provides high accuracy speed, position and heading data, and is the industry standard measurement tool when it comes to tyre testing and vehicle dynamics.

Free Data Analysis Software
VBOX Test Suite is free to all VBOX users and comes pre-installed with dedicated Lateral and Longitudinal analysis plugins, to speed up the testing process.

Wheel Speed Calibration
Automated wheel speed calibration procedure to simplify system setup in Longitudinal Aquaplane or Tyre Traction tests. 

Live Display
VBOX Test Suite installed on a Windows device within the test vehicle offers real-time display of all measured parameters.

Reduce Test Time
You can see if your system has passed or failed the test in real-time, by easily configuring your own pass and fail criteria in the software, which can reduce post-processing time.

Map Integration
Overlay a positional trace onto a satellite image to help better understand the testing environment.
Testing Equipment
---
A typical Aquaplane test setup consists of a VBOX 3i 100 Hz data logger available with a choice of single or dual antennas. When integrated with a VBOX Inertial Measurement Unit (IMU), the system can be used to accurately measure pitch, roll and yaw rate.
Measured Parameters
Vehicle speed (0.1 km/h RMS)
Distance accuracy 0.05 % (<50 cm per km)
Heading resolution (0.01°)
IMU Integration:
Pitch and roll angle (0.06° RMS)
Yaw rate resolution (0.00085°)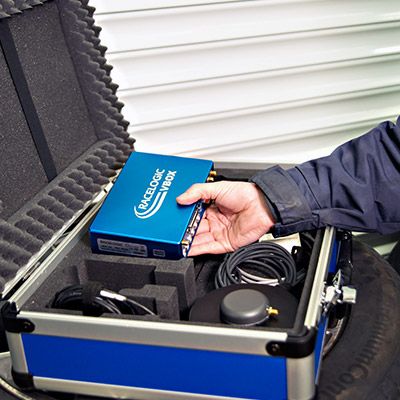 Powerful 100 Hz Data Logging
VBOX 3i is the pinnacle of the VBOX product range. It uses a powerful GPS/GLONASS receiver and logs data 100 times per second, to achieve high level accuracy.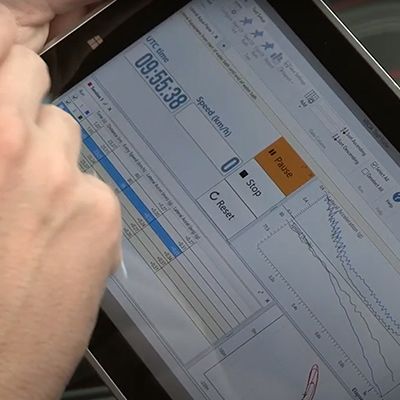 Tablet or PC for live data display
Want to save time analysing your data? Let VBOX Test Suite do it for you. Our free data analysis software comes with dedicated Aquaplane plugins, and shows you live data from your vehicle in real-time, allowing you to review tyre performance instantly.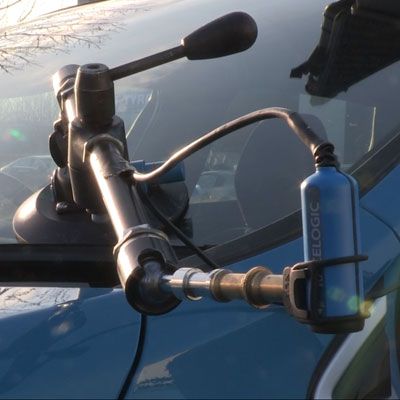 Video Integration
A VBOX video logger can be used to simultaneously log data and graphically enhanced video.
Graphical overlay is totally user configurable and can be easily altered to present relevant information according to the tests being conducted.
Aquaplane Testing
VBOX Test Suite comes pre-loaded with dedicated Lateral and Longitudinal aquaplane plugins to help reduce set-up time. All measured parameters can be viewed in real-time using a Windows-based tablet or laptop during the test procedure.