Flexible test solution to meet the requirements of the new 2023 Euro NCAP Dooring scenario within the VRU active safety assessment.
100 Hz RTK, Euro NCAP-compliant solution for 'exit assist' systems
Bespoke sensors to detect visual and audible warnings
Door handle activation and door opening sensors to assess door retention systems
Synchronised HD Video for post-processing
Free, dedicated Dooring test software plugin
Test your Dooring System with VBOX
VBOX equipment provides centimetre-level positional accuracy with real-time output of the relevant parameters required to test a vehicle's 'exit assist' system in accordance with the latest Euro NCAP Dooring scenario.
Combining the use of VBOX 3i, simple audio, visual and pressure sensors, and using our free software plugin for the Euro NCAP Dooring Scenario, Dooring testing can be efficiently completed with easy automated analysis giving immediate PASS/FAIL, TTC and Range results. The addition of a Video VBOX to the set-up adds HD video for post-processing assessment.

NCAP-compliant
The VBOX 3i RTK offers Euro NCAP-compliant logging rates (100 Hz) and a positional accuracy of less than 2 cm, when used with an RTK Base Station or NTRIP device.

A set of audio, visual and force sensors designed specifically to test the required elements of Euro NCAP scenarios.

Video Integration
You can use a VBOX video logger to simultaneously record and display data and HD video footage. This provides the option of post-processed assessment via overlaid, time synchronised, video footage.

Dedicated Software
VBOX Test Suite is free to all VBOX users, available in ten different languages and pre-installed with a dedicated Dooring plugin for Euro NCAP testing.

Real-time Feedback
VBOX Test Suite installed on a Windows device within the test vehicle offers real-time display of all measured parameters.

VBOX equipment can be used with Anthony Best Dynamics and VEHICO driving robots and the robotic platforms used to propel VRU in the Dooring scenario.
VBOX Test Suite with Dedicated Dooring Plugin
---
Our user-friendly, intuitive data analysis software, Test Suite, makes the process of viewing live data and analysing your test data as quick and easy as possible.
A dedicated Dooring plugin accepts inputs from up to 5 sensors to giving results for TTC, range, lateral deviation and UTC time for TOperate, TLatch and TOpen.
The NCAP protocol's test parameters and boundary conditions for the Dooring scenario are hard coded into VBOX Test Suite software, and all the relevant channels are automatically created and logged at 100 Hz during a test: target speed, relative distances, and lateral deviation. For each run, you can clearly see whether each test condition is within tolerance, and a pass/fail status for the test as a whole.
This level of automation results in a significant reduction in post-processing work as well as the time already saved on track. A comprehensive report can be generated at the end of the test, providing all session information and results for post-test analysis.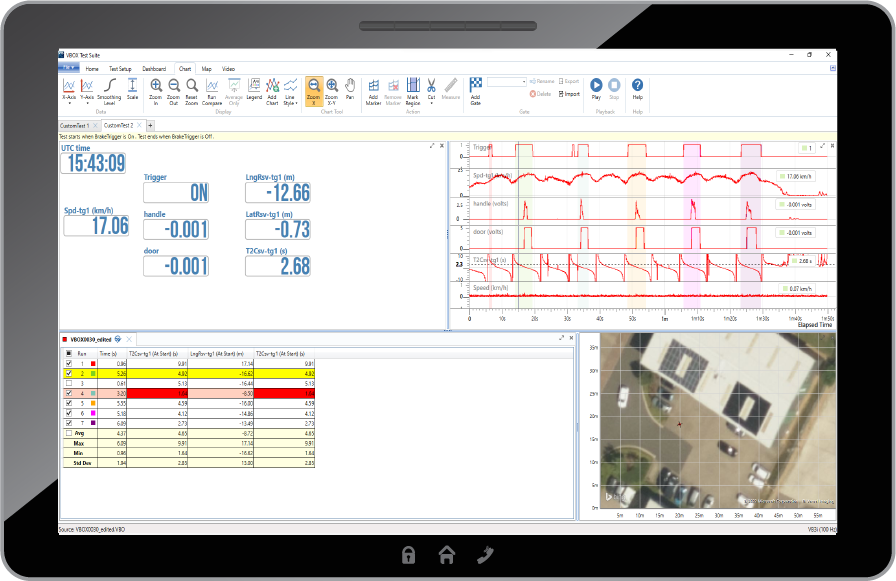 Testing Equipment
---
A typical Dooring test setup consists of two VBOX 3i 100 Hz data loggers, an RTK Base Station or NTRIP solution, Dooring sensor pack and ADAS radios for V2V communication. Optional video integration and synchronisation with the test data can be achieved by adding a VBOX video logger. This dedicated equipment for the dooring scenario means you can perform this assessment independently of other ADAS equipment, freeing up usage elsewhere.
Measured Parameters
TTC
Longitudinal distance
Handle contact (Contact trigger)
Handle operation or 'Latch point' (Pressure trigger)
Door opening (Trigger switch)
Visual warning (RACELOGIC warning sensor)
Secondary sensor inputs can be used for multiple door assessment
RACELOGIC audible sensor (optional)
All measured parameters are synced to time / TTC / Longitudinal range at 100 Hz.