CAN Gateway
Allows the logging of vehicle CAN bus or CAN FD data in a VBOX system where secondary CAN modules are used.
Converts up to 32 CAN or CAN FD messages
125 Kbit, 250 Kbit, 500 Kbit & 1 Mbit CAN rates
Up to 4 MB data rates for CAN FD
Isolates VBOX data from vehicle CAN bus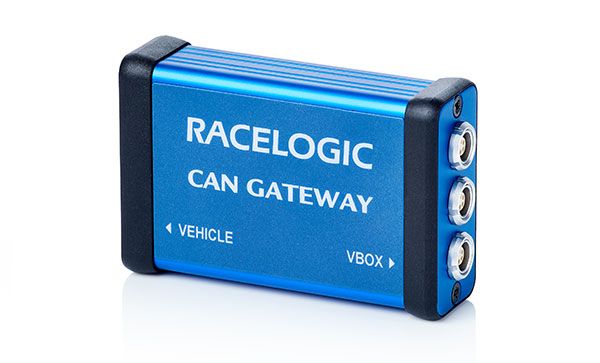 What is it?
The VBOX CAN Gateway is designed to control flow of CAN data between two separate buses. It allows logging of vehicle CAN or CAN FD bus data to a VBOX system while simultaneously allowing secondary CAN modules such as the Mini input module to communicate with the VBOX.
Under normal circumstances, attempting to capture CAN data from a car as well as that from a module would lead to VBOX and VBOX Module data being put into the vehicle CAN bus – with unpredictable and almost certainly unwanted results. The CAN Gateway allows for both data streams to be logged by the VBOX without any of the module traffic going back onto the vehicle Bus.
When connected to a PC via the supplied RLCAB117 USB cable, the CAN Interface can be programmed using dedicated setup software to read almost any CAN format message and be configured to then re-transmit them onto the VBOX CAN bus.
What is it for?
The CAN Gateway can be used by VBOX 3i/3iS owners and non-RACELOGIC customers to do the following:
Convert up to 32 CAN FD messages to CAN and output these on a different CAN bus
Isolate 2 CAN busses while allowing all messages to be transferred to a different CAN bus
Take data from one CAN bus speed and convert it to another speed
Filter data from one CAN bus and forward the specific data to another CAN bus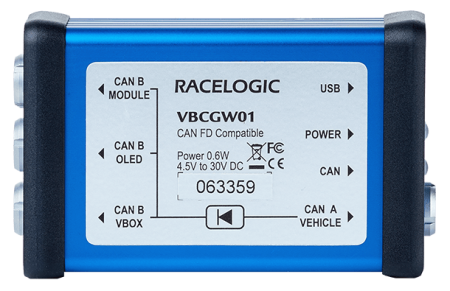 Environmental
Operating Temperature

-20°C to +70°C

Storage Temperature

-40°C to +85°C
CAN
Type

CAN 2.0A, CAN 2.0B, Flexible Data Rate

Baud Rates

125 Kbit/s, 250 Kbit/s, 500 Kbit/s or 1 Mbit/s for CAN;
24 MB/s for CAN FD
Power
Input Voltage

4.5 - 30 V DC

Power

0.6 W
Physical
Dimensions (L x W x H)

90.8 x 57.13 x 26.13 mm
3.57" x 2.26" x 1.03"

Weight

110g

Protection Rating

IP51