VBOX Test Suite
Our user-friendly, intuitive data analysis software makes the process of recording and analysing your test data as quick and easy as possible.
Available in ten different languages
Over twenty-five application specific plugins
Live and post-test analysis
Customisable layout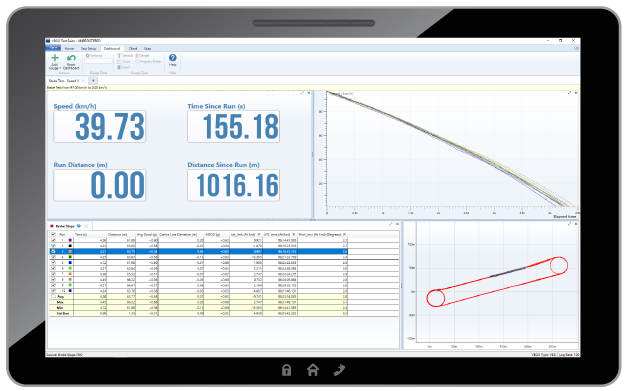 Application-based analysis
Pre-loaded with over twenty-five plugins that are regularly updated and conveniently grouped by application such as ADAS, Braking or Pass-By Noise, the software allows you to conduct a range of tests that conform to the latest regulations from around the world.

Live and post-test analysis
VBOX Test Suite can be used in either 'Offline' mode, for post-test analysis, or 'Online' mode, when connected to a VBOX. In online mode you can see live data from your vehicle, in real-time, clearly showing if pass or fail conditions have been met and saving valuable development time.

Analysis of multiple data sets
Multiple data sets can be analysed simultaneously in the workspace area, with a separate tab for each test ensuring all your data is available on one screen.

Customisable layout
You can customise the layout of the workspace area to suit your needs; incorporating tables, charts, maps and synchronised HD video footage, which can all be viewed side-by-side. Adding/ removing gauges and logged channels in the dashboard area, allows you to see as much or as little data as you like.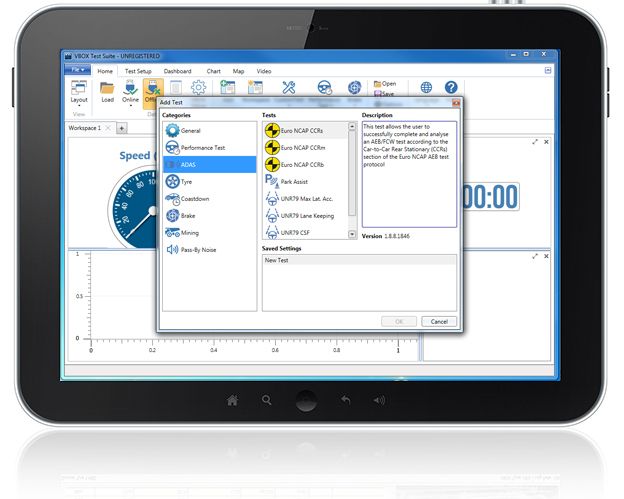 Multilingual
The software is also available in ten different languages: English, Chinese, French, Italian, German, Japanese, Korean, Portuguese, Russian and Spanish.

Custom tests
It is possible to easily create your own custom test if you have a specific requirement not covered by one of the plugins.
Session-specific information
VBOX Test Suite allows you to enter session-specific information that defines test conditions and vehicle details, like the requirement of kerb mass, power, idle rpm and rated engine rpm when testing to R51/R41.

Free of charge
The software is free to download and updated regularly.
Plugins
---
VBOX Test Suite comes pre-loaded with plugins ready to use in a variety of applications, with additional test plugins added as they are developed. These allow for a targeted, specific approach that allows for tests to be set up and handed over to a driver to complete.
Click on the relevant links below to find out more about specific test plugins. 
The Workspace

---
The Workspace can be used in both offline and online modes and contains 4 main areas; a Dashboard, a Chart, a Map and a Video area. Hover over the blue markers to find out more.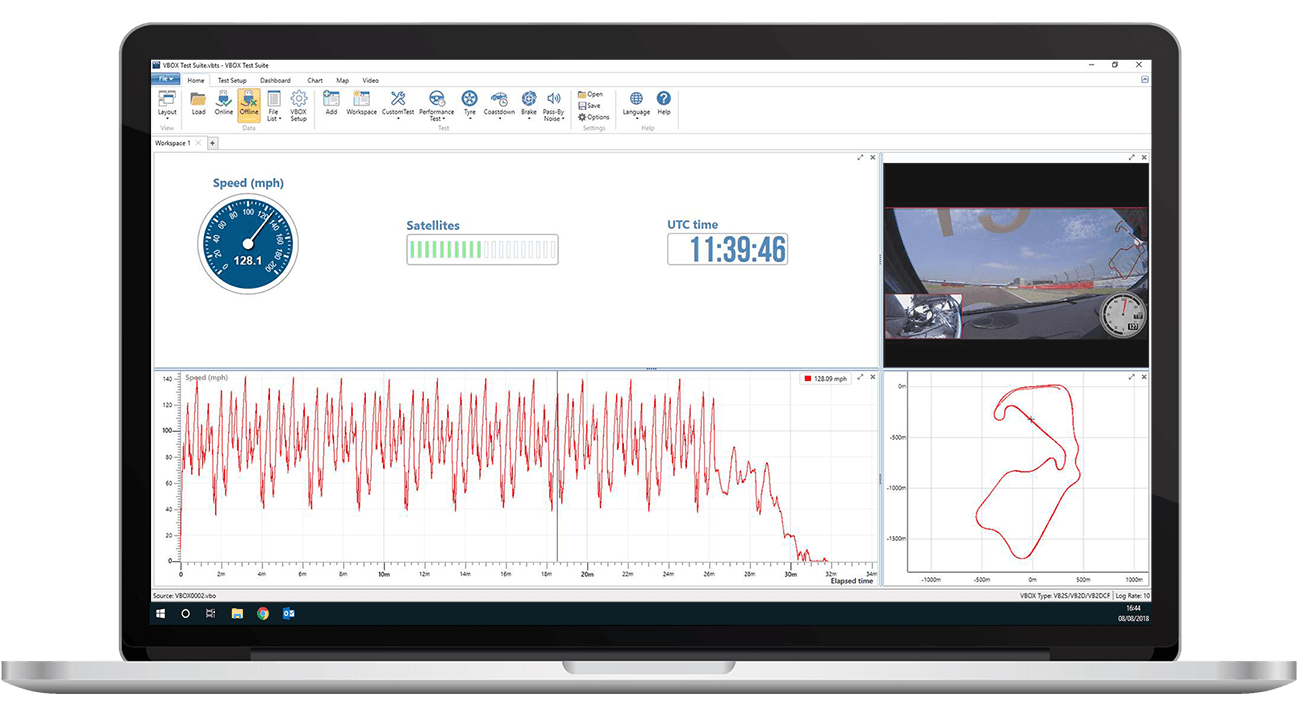 The Dashboard
The Dashboard is an area where the user can display live or post-processed data on a series of gauges, as well as starting, stopping and resetting tests when in 'Online' mode.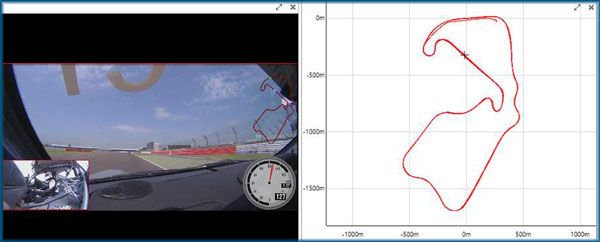 The Video Area
The video area will be populated with footage when the data file was logged by a video data logger. This allows you to see what is happening on the test track at any given point within your data.
The Map Area
The map area shows a positional trace of the path taken during testing.

The Chart Area
The chart area is an area that allows the user to see a graphical representation of the data contained within a file.
Any channel (e.g. Speed against Time) can be set as X/Y axis, and multiple channels and files can be overlaid.

The Ribbon Bar
The ribbon bar across the top of the workspace is home to various menus of the software. The menu tabs that are visible depend on whether or not a test has been loaded, and the areas that are visible within the work space.
VBOX Setup
VBOX 3i and VBOX II data loggers, speed sensors and most modules can be configured using the VBOX Setup software.
To do this, the VBOX unit needs to be connected to a power source and a PC. Instructions on how to use VBOX Setup can be found in the individual product manuals.
The configuration options will vary depending on the product. Below are some examples of the VBOX 3i setting menus.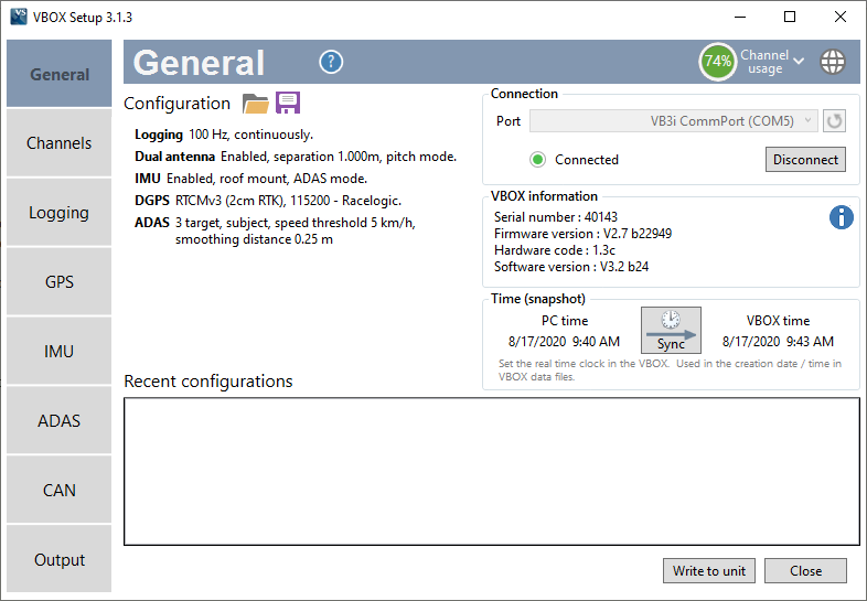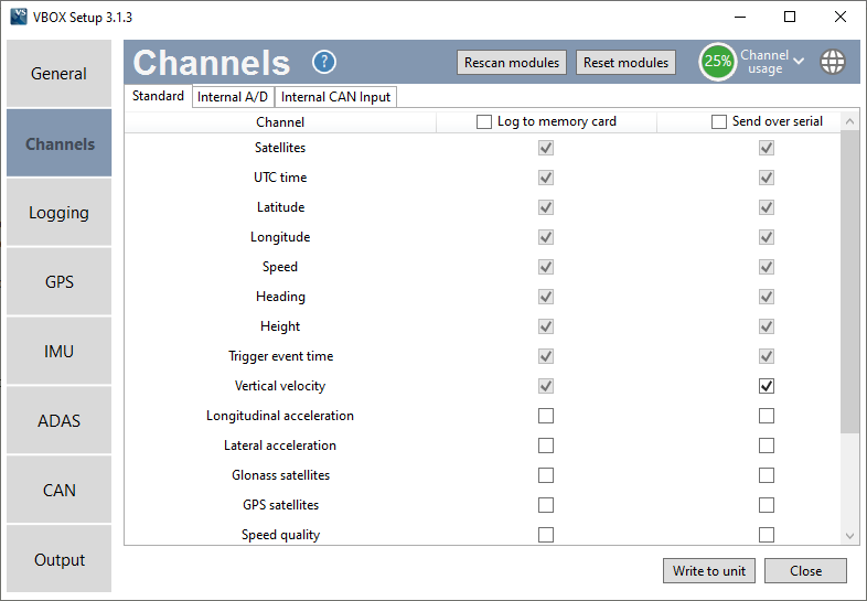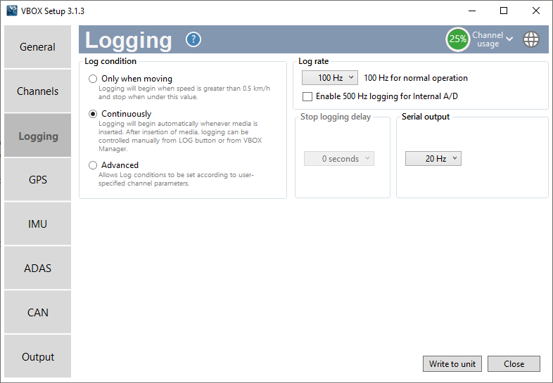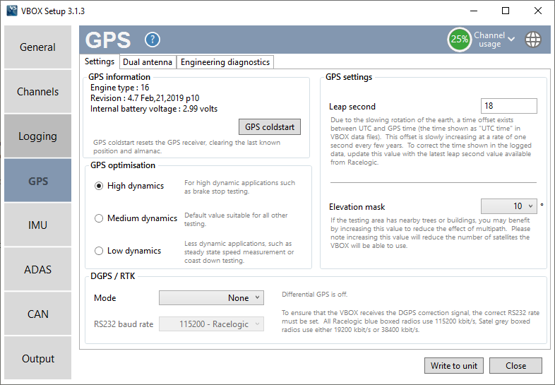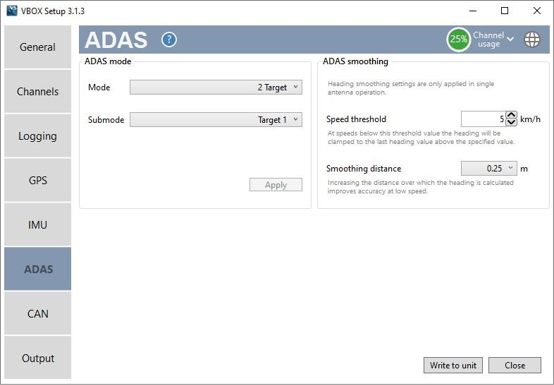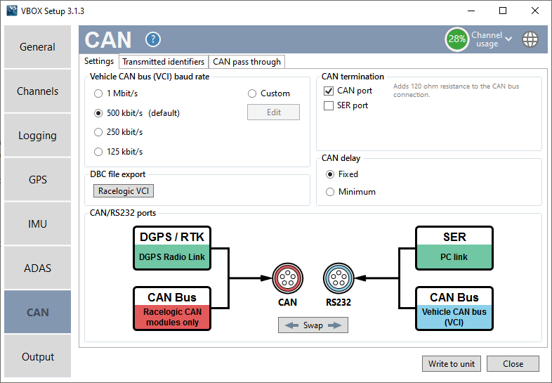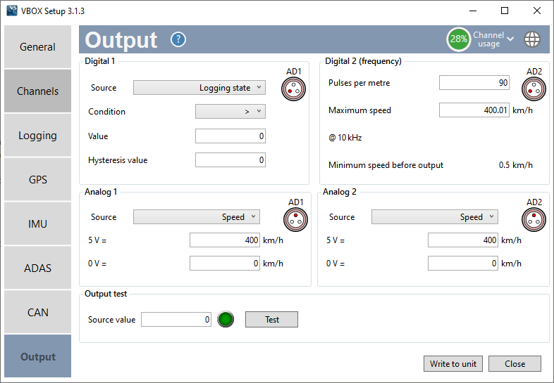 VBOX File Processor
VBOX File Processor is a software utility which has been designed to manipulate VBOX data files after they have been recorded.
It allows the user to rename existing channels within the VBOX file, to apply filters and to generate new channels via Maths and ADAS feature plugins - all within an intuitive and easily understood framework.
The software can then output a standard VBOX Test Suite compatible VBO file, Excel CSV, or Google Earth format.
One of the most powerful aspects to the new programme is the ability to batch process a number of files at once - greatly reducing post-processing workloads.
Software Process Plugins
The VBOX File Processor utility is free to download from the software downloads page and comes pre-installed with all plugins. The Channel Selection, Filtering and Maths Channels plugins are ready to be used. The ADAS plugins require software registration.