VBOX LapTimer
VBOX LapTimer is ideal whenever a consistent and repeatable real-world test is required, or when tests need to extend for many hours.
10 Hz GPS data logging
Inbuilt and external GPS antenna
Ideal for fuel economy & durability testing
Useful for tyre testing & real-world verification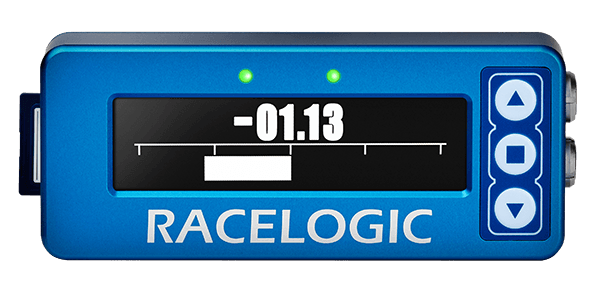 10 Hz Update Rate
10 Hz GPS receiver with internal patch antenna. An external GPS/GLONASS antenna is supplied for enhanced positional accuracy.

Easy Operation
Three buttons to scroll screens, set start/finish points, reset data, start/stop logging, and enter menus.

SD Card Logging
The Lap Timer can record to the MMC, SD, SDHC and SDXC media cards that are formatted in a FAT or FAT32 format.

Powerful Analysis Software
Analyse your data with our free VBOX Test Suite software.
VBOX LapTimer is a 10 Hz GPS data logger and OLED display in one.
It provides real-time display of live speed, lap count, max. speed, lap times, or predictive lap times (delta time).

The data is calculated at all times, even if it is not displayed and is stored onto an SD card for later examination.
VBOX LapTimer can be used as an OLED display when connected to a VBOX or Speed Sensor unit.
The VBOX LapTimer records the following parameters as standard:
Time
Position
Velocity
Vertical velocity
Height
Heading
Accumulated Distance
Acceleration
Display Modes

VBOX LapTimer has ten different display modes which can be accessed using the UP and DOWN buttons on the front panel.
The data on each screen is calculated at all times, even if it is not displayed.
Live Speed

Max Speed

Speed Bar

Lateral G

Lateral G Bar

Longitudinal G
Longitudinal G Bar

Lap Timing

Predictive Lap Timing

Lap Count

Free Data Analysis Software
---
VBOX Test Suite
Our user-friendly, intuitive data analysis software comes pre-loaded with application specific plugins that make it quick and easy to conduct tests.
Over 25 application specific plugins
Live and post-event data analysis
Create your own custom tests
Customisable layout
Easily create charts, tables and reports
Analyse data sets simultaneously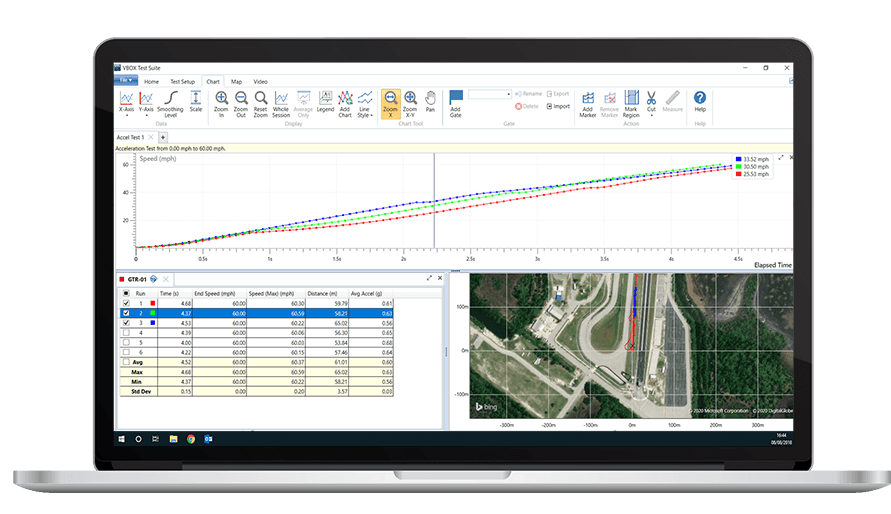 Update rate: 10 Hz
Speed accuracy: 0.1 km/h
Position accuracy: V: 3 m; H: ±5 m (95% CEP)
Constellations: GPS & GLONASS
Antenna: Internal Patch Antenna or External Antenna
Logging media: SD card
Mounting: Lightweight camera/display suction mount included
Operating Temperature: -20 to +70°C
Power: 1.5 W
Input: 7 –30 V DC
IP Rating: 31