Automotive testing - new ways of working
How can the industry safely test and develop vehicles at the same rate as before,
while keeping up with the ever-changing landscape of automotive development?
There's no escaping the fact that the automotive testing industry has been impacted heavily by recent global events. Previously, when there have been significant legislation changes or a rise in popularity of new vehicles, there has been a grace period to enable testing regimes to be adapted.
However, the recent pandemic has left no time to prepare for perhaps the biggest changes that OEMs will ever have to make. Proving grounds have been forced to temporarily shutdown around the world, including those in 'Motor City' in Michigan, and some have been operating at limited capacity, offering auto makers the opportunity to test for free to compensate.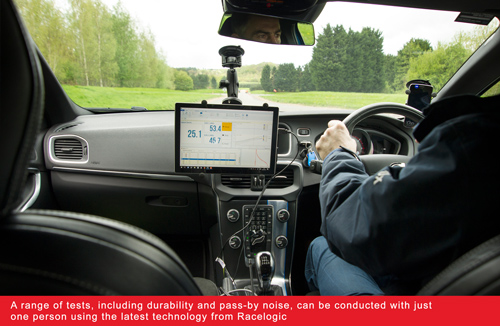 VBOX dataloggers have been used by automotive engineers ever since they first came to market over 20 years ago, and the blue box has now become synonymous with the automotive testing process.
Over the years, Racelogic's VBOX has evolved, much like the industry, and Racelogic now has a wide range of data acquisition systems that could really benefit anyone testing in the post-Covid-19 era. One such product is the VBOX Video HD2 datalogger, which offers synchronized data and HD video. It has the ability to live-stream both data and video back to an engineer at the side of the test track, or even in a remote office – which is important, as having two people sat inside a test vehicle may well be a thing of the past. Live-streaming data that would previously have been witnessed from inside the test vehicle can now be transmitted to the automotive
engineers remotely.
Read the full magazine article here.