VBOX 3i ADAS

Outstanding positional accuracy and flexible test configurations exclusively for ADAS testing
Multi-constellation and dual frequency 100 Hz GNSS RTK receiver
Combines IMU and wheel-speed data to maintain accuracy
Resilient RTK for reliable test-track and open road testing
Intuitive set-up software for complex ADAS scenarios
Free lifetime customer support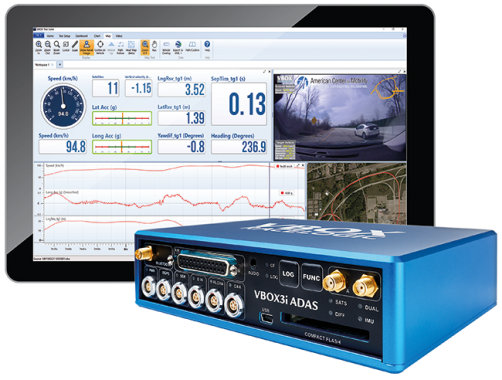 ADAS Testing Just Got Easier
---
Dedicated ADAS testing: Building on the key features that made VBOX 3i the industry standard data logger for automotive testing and validation, VBOX 3i ADAS has taken the evolution of this family of data loggers and created a whole new species dedicated to ADAS testing.
Outstanding Accuracy: Its new GNSS engine, which is multi-constellation and dual frequency, delivers outstanding RTK signal reacquisition and resilience, ensuring you spend more time logging RTK accurate data on both the test track and the open road.
Easy Set-up: When using VBOX 3i ADAS, the vehicle under test can simultaneously reference any combination of up to three moving targets, two static targets, three road-line references and 99 signposts. This expanded capability enables the evaluation of complex ADAS scenarios with full flexibility to customise the test set up. Tests requiring multi-target and multi-lanes can be easily configured to validate ADAS systems.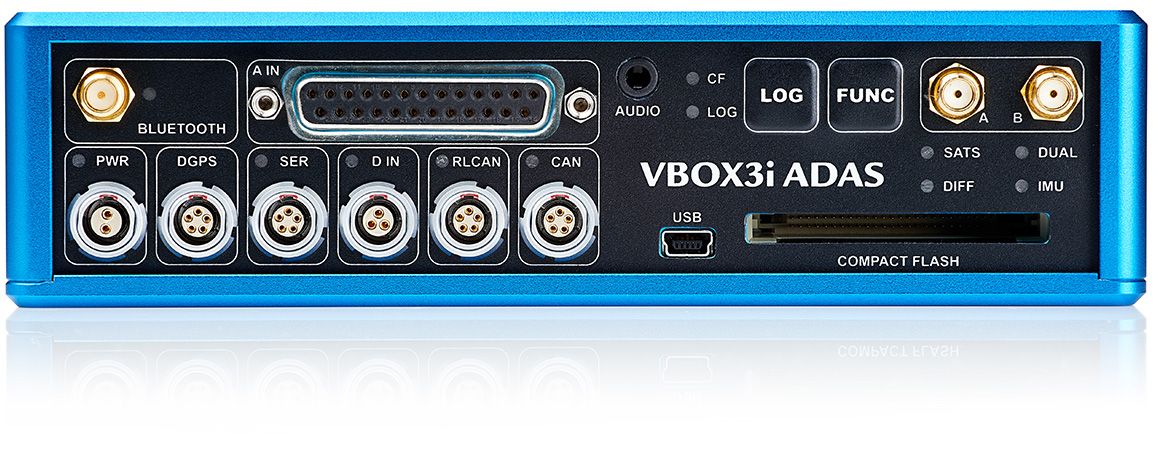 NCAP-compliant
The VBOX 3i ADAS offers Euro NCAP-compliant logging rates (100 Hz) and a positional accuracy of less than 2 cm, when used with an RTK Base Station or NTRIP device.

The latest RTK, multi-constellation GNSS receiver delivers centimetre-level accuracy with robust signal reliability even in challenging GNSS environments.

IMU data integration
VBOX 3i ADAS has the ability to utilise data from a VBOX IMU and uses a Kalman Filter to improve all parameters measured in real-time at 100 Hz.

Real-time testing
Connect to a laptop or tablet via USB, Bluetooth or Serial for real-time display and analysis of test data in the field.

CAN bus logging
Log up to 32 channels directly from the vehicle's CAN bus.

Dedicated ADAS Testing
Evaluate the full range of ADAS scenarios with customisable parameters and intuitive data analysis in VBOX Test Suite software.
RTK Positioning Correction Service
We offer flexible options to access the Topnet Live GNSS Positioning Correction Service within Europe with the purchase of any RTK enabled VBOX test solution.
Test in areas with poor satellite coverage
The VBOX 3i ADAS utilises wheel speed data directly from the vehicle's CAN Bus, which means you can reliably test in areas with limited or no satellite coverage, such as tunnels, deep urban canyons and test tracks with heavy tree lining.
A 100 Hz GNSS receiver provides highly accurate measurements of position, velocity and distance in areas with a clear view of the sky. However, as you start to lose visibility of the satellites in built-up or obscured areas, the accuracy of the data typically starts to drift.
By combining wheel speed data from the vehicle's CAN bus with GNSS and Inertial data from a VBOX IMU, the VBOX 3i ADAS can maintain the accuracy of the estimated speed and position, even when you lose satellite signal.
Which applications can you test with VBOX 3i ADAS?
---
You can validate the accuracy of almost any Advanced Driver Assistance System using a VBOX 3i ADAS, including Adaptive Cruise Control, Blind Spot Detection, Park Assist, AEB, Lane Keep Assist and Dooring. VBOX 3i ADAS provides Euro NCAP-compliant logging rates (100 Hz) and highly accurate measurements of position, speed, attitude, separation distance and time-to-collision data from multiple vehicles. 
Velocity
Accuracy

0.03 m/s

Update rate

100 Hz

Resolution

0.01 km/h

Latency

Fixed CAN delay, no IMU integration: 15.5 ms
Fixed CAN delay, with IMU integration: 20 ms
Absolute Positioning (RMS)
Accuracy with RTK

V: 1 cm + 1 ppm; H: 0.6 cm + 0.5 ppm *

Accuracy with DGPS

V: 0.7 m; H: 0.4 m*

Accuracy with SBAS

V: 0.8 m; H: 0.6 m*

Accuracy (Standalone)

V: 1.9 m; H: 1.2 m*

Update rate

100 Hz

Resolution

1.8 mm
*Specifications will vary depending on the number of satellites used, obstructions, satellite geometry (PDOP), multipath effects, and atmospheric conditions. For maximum system accuracy, always follow best practices for GNSS data collection.
Distance
Accuracy

0.05 % (<50 cm per km)

Update rate

100 Hz

Resolution

1 cm
Heading
Accuracy

0.1°

Resolution

0.01°
How does it work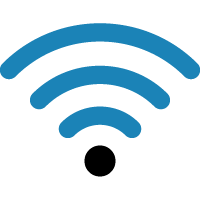 GPS Accuracy
How do you derive velocity, distance, position & vehicle body attitudes from GPS? Which factors are crucial in producing accurate measurements for vehicle testing?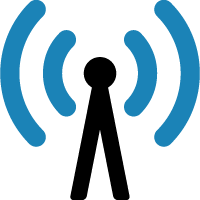 Increased Accuracy with RTK
What is Real Time Kinematic (RTK)? How do you increase the accuracy of GPS signals using RTK? What are the limitations?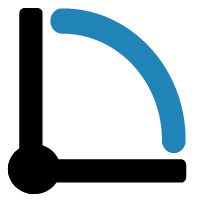 Accuracy in Any Location
How do you maintain data accuracy in locations where GNSS signals might get obstructed, such as driving through a tunnel?